Time trial update
Published on 2023-10-21 at 21:03:49
A new update arrives on MKPC for all the time trial gamers!
It includes some small improvements as well as a major new option. No more teasing, let's jump to the update content now!
Ghosts in custom tracks
This option has been requested for a reaaaallly long time

Until now it was only possible to save ghosts on the 56 official MKPC tracks, for custom tracks you could only save your time but not the recording of the race itself. So it was impossible to see your race again and also to face with someone else's ghost.
This was a quite strong limitation as it's hard to improve your time if you can't have a reference to compare to, and because of that the time trial mode has never been used a lot outside of official tracks.
Well, this limitation is over now!

Save ghosts and face with other ghosts like for base tracks!
And thanks to this you can thus save a ghost in you own tracks to create your "staff ghosts"!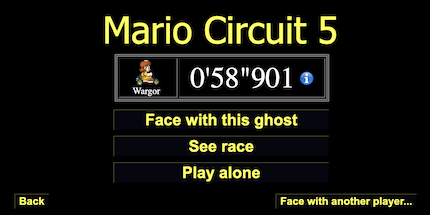 My first ghost from the track builder! Will you manage to beat it?

Isn't this update going to take too much space for the server?

This was the huge problem with this option, and the main reason why I didn't add it before: a ghost record takes a lot of space in database as it requires to basically store the kart position and input
for every frame
.
BUT I managed to tackle this issue by highly optimizing how the ghosts are stored

Without going into details, I'm now using a very efficient compression algorithm that allows to use way less space to store the ghost data. Concretely I was able to divide the space usage by almost a
×10 factor
!

Thanks to that you can now save ghosts at a quite low cost, which allows each of you to save
up to 500 minutes of ghost time
! This should be enough for most of you, but
this page
lets you remove some ghosts in case you'd reach the limit.
Other improvements
Apart from that, some minor improvements have been made, still concerning the time trial mode:
- A button to easily access the best ghost of a given track. No longer need to spam the left arrow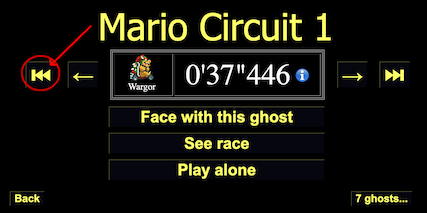 - A
world record history
! You can now see the evolution with time of a track world record, and which player held the record. To view history, just go to the
leaderboard page
and click "Track world record history"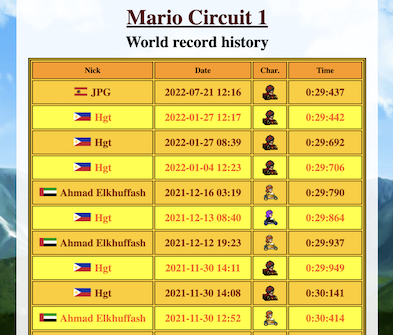 Travel back in time!
- Last but not least, the world record leaderboard page should load way faster now! Previously it loaded all the record pages of all the tracks so it was quite heavy and took more and more time as the number of records increased. I changed this to only load the 1st page of each track, which is way more efficient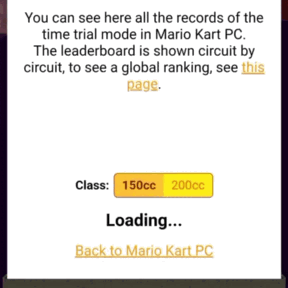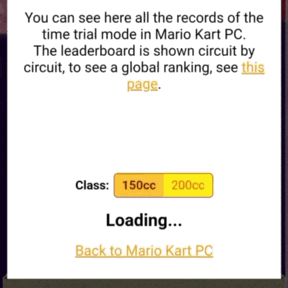 Loading time before VS after, even my shitty phone can display it fast now!
I hope you'll enjoy the update, and I look forward to seeing your new time trial achievements!

Une nouvelle mise à jour arrive sur MKPC pour tous les amateurs de contre-la-montre !
Elle comprend quelques petites améliorations ainsi qu'une nouvelle fonctionnalité majeure. Mais trêve de suspense, passons maintenant au contenu de la mise à jour !
Fantômes dans les circuits custom
Une option qui a été demandé depuis très longtemps

Jusqu'à présent, il était possible de sauvegarder des fantômes uniquement sur les 56 circuits officiels de MKPC. Pour les circuits custom, vous ne pouviez enregistrer que votre temps mais pas la course elle-même, donc il était impossible de revoir votre course et d'affronter le fantôme de quelqu'un d'autre.
C'était une limitation assez forte car il est difficile d'améliorer son temps sans avoir une référence pour se comparer, et de fait le mode contre-la-montre n'a jamais été beaucoup utilisé en dehors des circuits officiels.
Eh bien, cette limitation n'est désormais plus !

Sauvegardez des fantômes et affrontez d'autres fantômes comme pour les circuits de base !
Et vous pouvez donc aussi sauvegarder un fantôme sur vos propres circuits pour créer des "fantômes développeurs" !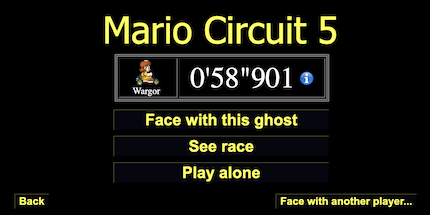 Mon premier fantôme dans l'éditeur de circuit ! Arriverez-vous à le battre ?

Cette mise à jour ne va pas prendre trop de stockage sur le serveur ?

C'était le gros problème avec cette option, et la principale raison pour laquelle j'ai mis autant de temps à l'ajouter : la sauvegarde d'un fantôme prend beaucoup d'espace dans la base de données puisqu'il faut stocker la position du kart et les inputs
à chaque frame
.
MAIS j'ai réussi à résoudre ce problème en optimisant drastiquement la façon dont les fantômes sont stockés

Sans rentrer dans les détails, j'utilise maintenant un algorithme de compression très efficace qui permet de prendre beaucoup moins de place pour stocker les données d'un fantôme. Concrètement, j'ai réussi à diviser l'utilisation de l'espace par presque un
facteur 10
!

Grâce à ça, vous pouvez maintenant sauvegarder des fantômes à moindre coût, ce qui permet à chacun de vous de sauvegarder
jusqu'à 500 minutes de fantômes
! Cela devrait être suffisant pour la plupart d'entre vous, mais
cette page
vous permet de supprimer des fantômes dans le cas où vous atteindriez la limite.
Autres améliorations
En dehors de cela, quelques autres améliorations mineures ont été implémentées, toujours concernant le mode contre-la-montre :
- Un bouton pour accéder facilement au meilleur fantôme d'un circuit donné. Plus besoin de spammer la flèche gauche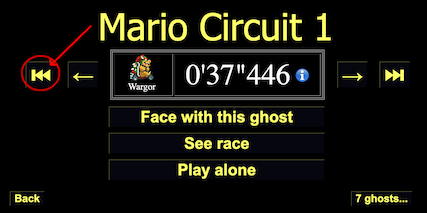 - Un
historique des records
! Vous pouvez désormais voir l'évolution dans le temps du record du monde d'un circuit, et quel joueur détenait le record. Pour voir l'historique, rendez-vous simplement sur la
page de classement
et cliquez sur "Historique records du circuit"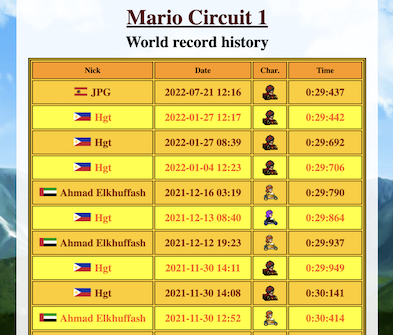 Voyagez dans le temps !
- Enfin, la page de classement des records du monde devrait maintenant charger beaucoup plus vite ! Jusqu'à présent on chargeait toutes les pages de record de tous les circuit, ce qui rendait la page assez lourde et prenait de plus en plus de temps à mesure que le nombre de records augmentait. J'ai changé ça pour ne charger que la 1re page de chaque circuit, ce qui est bien plus efficace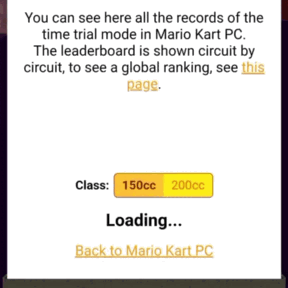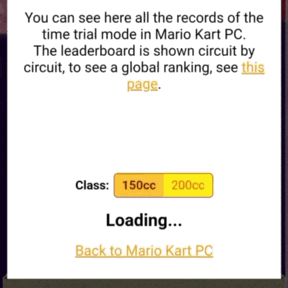 Temps de chargement avant VS après, même sur mon tel tout pourri ça va vite maintenant

J'espère que la mise à jour vous plaira, et j'ai hâte de voir vos nouveaux exploits en contre-la-montre !


31

14

12

10

10

11

12

13

9

13

8

10

9

10

9

7

2

5

5

5

3

1

2

1