Poochy's profile
Last nick: DaisyPeachandKeeby68
General stats

47 followers

122 following

18009 pts
-
Master
[?]
- 311
th

10441 pts
-
Champion
[?]
- 68
th

2948 pts
-
1497 challenges
won - 14
th

150cc:
242 pts
-
56 records
- 84
th

200cc:
15 pts
-
4 records
- 207
th

615 messages
-

Mario
[?]
1 news published
78 created circuits - 15 cups
20 challenges created
1 shared character
584 comments on circuits
57 topics followed
About
France
13 years old (Born on 12/06/2010)
Registered since 24/08/2022
Last connection: 19/09/2023
Calendrier de l'Avent 2022
[?]
: Prodige Hivernal
Last messages on the forum :

I saw a YouTube video who was talking about Mario Kart 8 Deluxe World Record, and someone called "Army" did a World Record on Daisy Cruiser as DAISY.
There are many proofs that make me think that it's the MKPC member, but I'm not really sure.
Do you think that person could be Army ?
On 2023-09-17 at 13:40:26 in
Wave 6
I love how there were 2 slots left for characters and they just added 4 instead.
Yeah how will they implement this ?
Many people predict that older characters can be counted as alts of other characters.
I have another solution, we add FK and Pauline on the two left slots and we create another row for Peachette, Diddy Kong, Hammer Bro, Poochy, King Bob-Omb and Paratroopa 🫣
Me in Mario Kart ?

That would be cool
Thanks Nintendo for bringing back Wii Daisy Circuit…
Also I'm happy about the 4 new characters, because :
• Pauline : Exactly what I wanted, one of the best Nintendo character
• Diddy Kong : Pretty cool, he's not forgotten anymore
• Funky Kong : Noice, the entire MKWii roster is finally in Mario Kart 8 Deluxe, but his screams are kinda annoying
• Peachette : I was like "Wtf…" when I saw the direct, but I like her, I mean I always use Toadette in NSMBUDLX to use Peachette, seriously who don't ?
I was playing Super Mario Bros. 2 (The USA version) on my NES, and I think I didn't put the NES cartridge correctly, so there was a HUGE weird glitch : a POW block was stuck on my head.
Anytime I pushed the B button, the screen started to shake, and it had the same effect as when I used a POW, but the screen shaking last ALL the level…
I tried to finish the game with that thing, that was pretty easy but uncomfortable because of the screen who was always moving.
At the final boss (Wart), the POW effect was only effective when he opened his mouth, so that was easy.
The ending was… Pretty weird.
The first part was kinda glitchy, because I only used Peach, but the Contributor screen said that I used Mario. Wtf
The second part was really REALLY glitchy, and also creepy.
When he was sleeping, Mario's eyes were white and wide, and some pixels of his head/bed were removed.
The Cast was glitched too, the tiles were totally changed, this was HORRIBLE to see.
Seriously, do someone want to see Peach with Cobrat's body ?
That reminds me of a glitch who happened when I was playing Super Mario Bros., the tiles were glitched and the odd numbers from the levels, the points, the lives or the time were changed into other numbers.
0 = 0
1 = 0
2 = 2
3 = 2
4 = 4
5 = 4
6 = 6
7 = 6
8 = 8
9 = 9
Etc.
So, the first level was the 0-0. Yeah, really.
Power-ups were glitched too, like the fire flower's top tile was right, but the bottom was Peach's dress, in different colours depending in which area we were.
Ground : White dress with green line
Underground : White dress with blue line
Castle : White dress white orange line
Sadly, I only took pictures of the second glitch.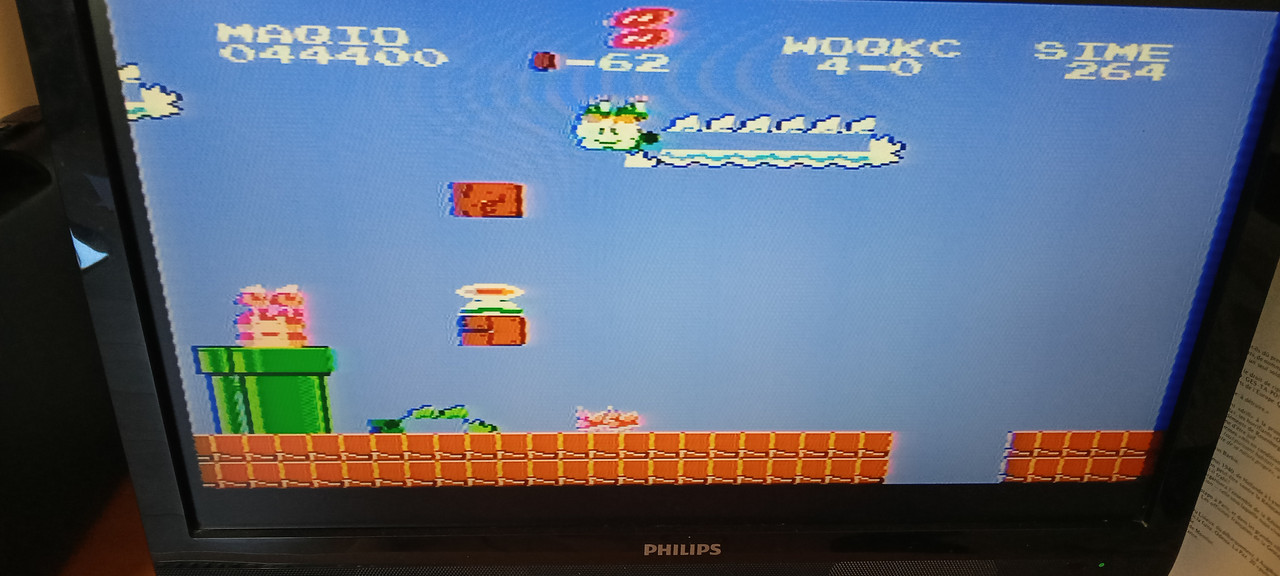 Princess Flower ?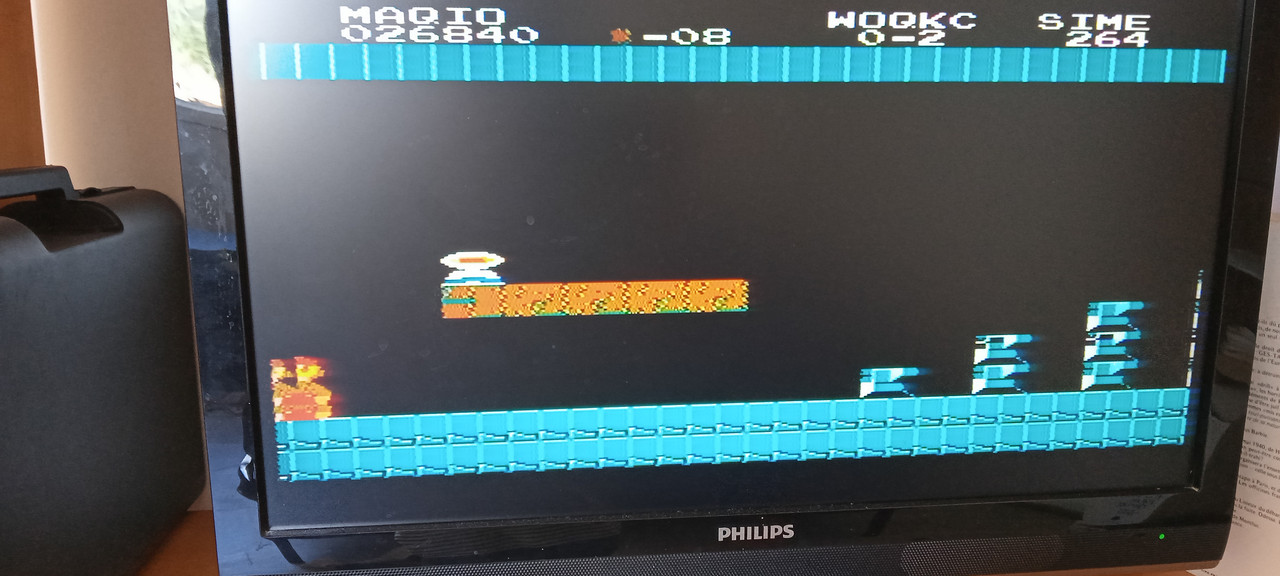 Princess Flower's alternate costume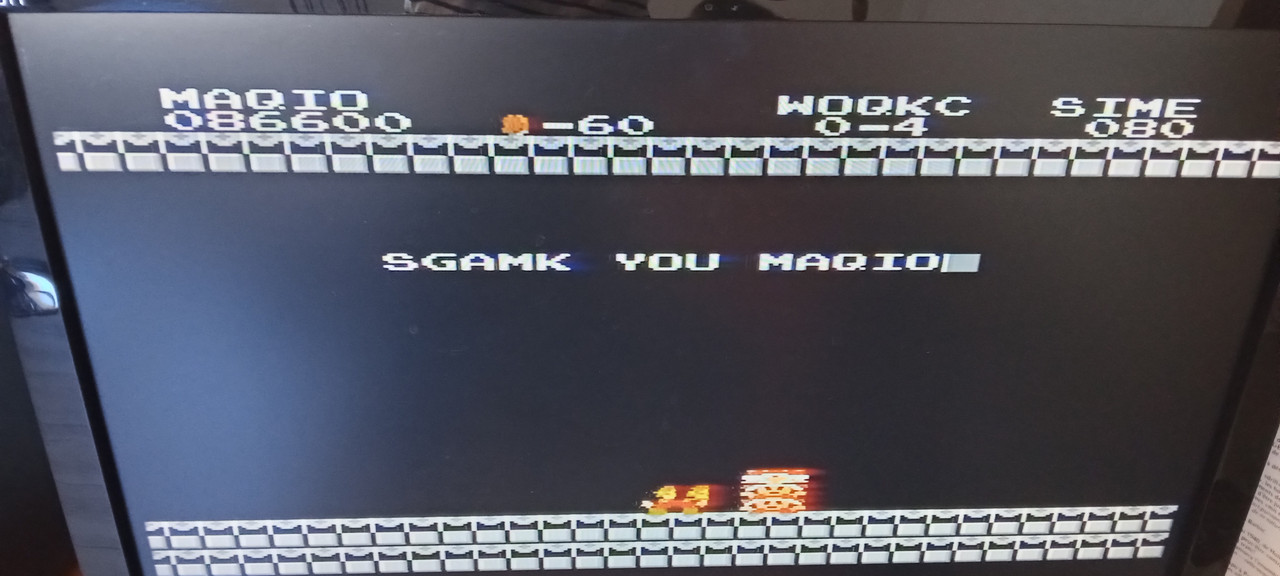 SGAMK YOU MAQIO⬜️
- Toad, 2023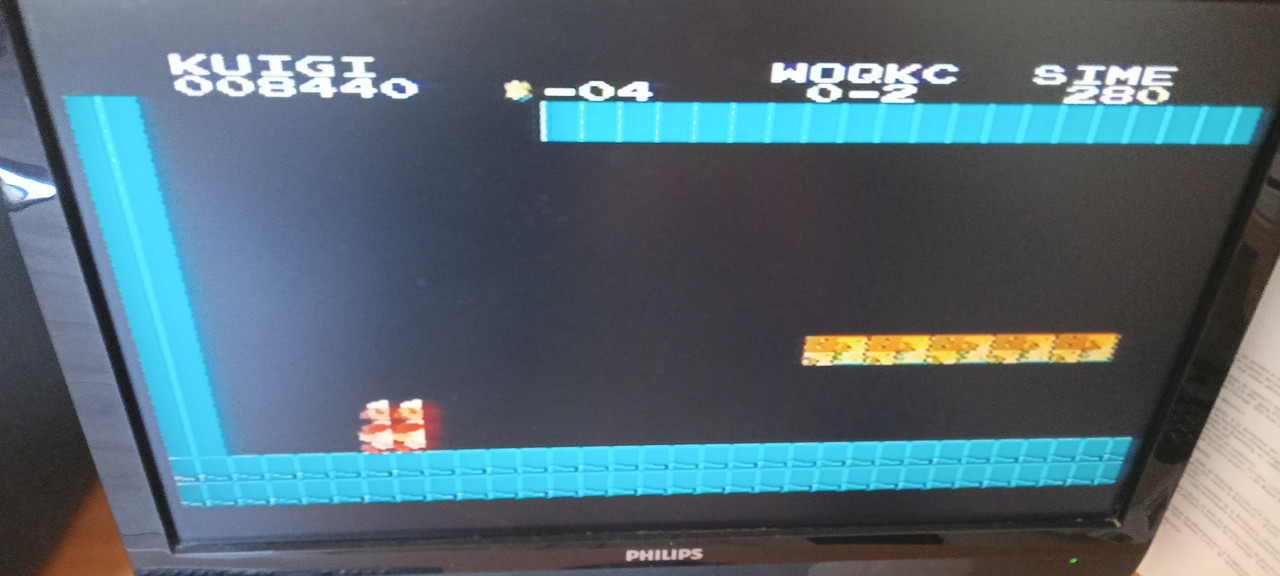 Here is Maqio's brother, Kuigi !
Since the game was "Super Mario Bros. + Duck Hunt", the glitch happened to Duck Hunt too.
Now, I need to shoot… Cucks.
The game is so glitched that instead of Shooting it's write "Sgoosimg"
This game has been created… In 884… Interesting…
WAIT NINTENDO IS CALLED MIMSEMCO
Well, after taking all these pictures, I tried another time to start the game, and it worked as it's supposed to.
This was funny though.

1
---
Best created circuits :
Enfin Luigi Circuit :))

21

Baby Park

13

Valentine's Day Special

6

Square Track ?

11

DaisyPeachandKeeby Lake

10
---
Best created challenges :
---
Last circuit comments :
---
Last completed challenges :
---
Best scores in time trial :
| | | | | |
| --- | --- | --- | --- | --- |
| Rank | Class | Circuit | Character | Time |
| 47th | 200cc | Rainbow Road | | 1:54:662 |
| 53rd | 200cc | Ghost Valley 2 | | 0:34:101 |
| 55th | 150cc | Rainbow Road | | 1:45:959 |
---
Last followed topics :
---
Last published news :