/!\ Decor editor update! / Mise à jour de l'éditeur de décors !
Published on 2023-05-27 at 21:31:04
Major update of the decor editor! 🎉
Lots of additions have been implemented that should extend a lot the possibilities

Support of all decor types!
New base types have been added to the decor editor:
-

Flippers
&
Bumpers
from Waluigi Pinball
-

Hand
from Tick Tock Clock
-


Fire ring
&
Fire triplet
from Wario Stadium
-


Oil
and
puddle

Before VS After - Many new types available!
You can now create your own version of these decors types!
Have fun experimenting all the new possibilities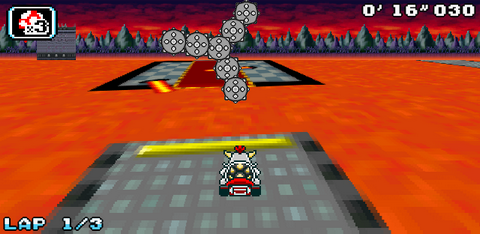 Some examples of what you can do now

Full custom type
In addition to all these base types, a brand new type has been added! Just select the Mario

icon in the decor editor to use it. This type allows you to define
1 sprite per orientation
, like the character editor! This will be very useful as it'll allow to create full 360° decors, which adds way more freedom to what you could do before!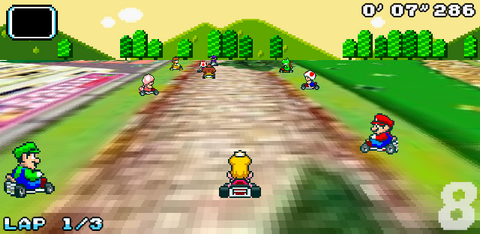 Let's add "NPCs" to the game!
More decors in challenge setup
Decors in challenge editor have also been upgraded! You can now add all these decor types for a specific challenge:
oil
,
flipper
&
bumpers
,
clock hand
.
But that's not all! You can also select your
custom decors
in these options

You can even select decors from other members via a collaboration link! No more limitation in the additional decors you want in your track!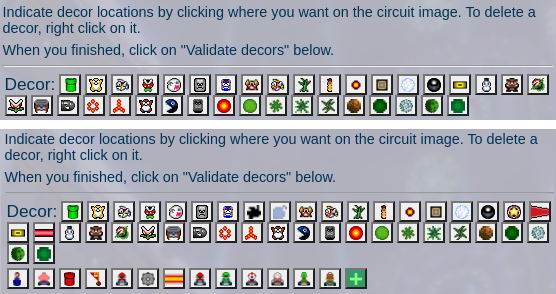 Before/After. I let you play the Spot the Difference game

Decor properties
Another addition that will unlock even more possibilities, the
decor properties
!
How it works? For your decor, you can override the properties of the base decor. For example, you can make a decor have
no hitbox
! This will be very useful for pure cosmetic types of decor that you don't want to have interacted with the rest of the game.
More generally, there are 3 properties you can toggle:
-
hitbox
(if disabled, you won't be blocked when you touch the decor)
-
collision damage
(if enabled, your kart will spin when you hit it, like thwomp and fire snakes)
-
breaking/unbreaking
(ability to destroy the decor with the "star" item)
To edit the decor properties, just go to the Advanced Options in the editor.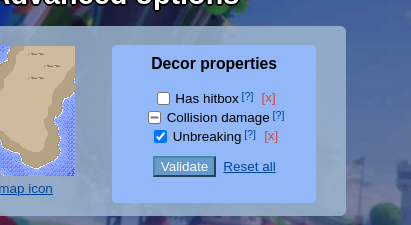 Small subtlety, checkbox has 3 states: default (keep base decor value), checked (enable), and unchecked (disable)
Create decor from URL
All these additions are great, but it will take up space to try out all these possibilities

Don't worry, we thought about it

You can now create decor by providing an
image URL
instead of uploading it to MKPC, like for custom tracks and backgrounds! No more usage of your quota


Upload your image to Discord to save space!
Other additions
It's not over?

No it isn't! 2 bonus additions have been integrated to this update:
-

Ability to select a
custom speed
for bus decor type. This could be useful to reproduce "race against car" MKDS mission.
-
Ability to
add extra items boxes
in challenge setup options. Place items wherever you want for a specific challenge, like you could do with decors.
As you can see that's a lot of new options! Hopefully you'll be able to exploit this update to its full potential to bring even more creativity to your tracks

Mise à jour majeure de l'éditeur de décors ! 🎉
De nombreuses nouveautés ont été implémentées qui devraient étendre considérablement les possibilités

Support de tous les types de décor !
De nouveaux types de base ont été ajoutés à l'éditeur de décors :
-

Les
Flippers
&
Bumpers
du Flipper Waluigi
-

L'
Aiguille d'horloge
de l'horloge Tic-Tac
-


Anneau de feu
&
Triolet de feu
du Stade Wario
-


Huile
et
flaque d'eau

Avant VS Après - De nombreux nouveaux types disponibles !
Vous pouvez maintenant créer votre propre version de ces types de décors !
À vous d'expérimenter toutes les nouvelles possibilités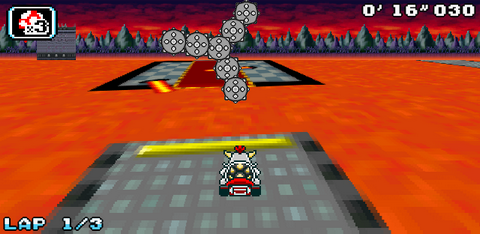 Des exemples de ce que vous pouvez faire maintenant

Type full custom
En plus de tous ces types de base, un tout nouveau type a été ajouté ! Sélectionnez simplement l'icône de Mario

dans l'éditeur de décors pour l'utiliser. Ce type permet de définir
1 sprite par orientation
, comme pour l'éditeur de persos ! Une option qui devrait se révéler bien utile puisqu'elle permettra de créer des décors full 360°, ce qui offre bien plus de liberté que ce que vous pouviez faire auparavant !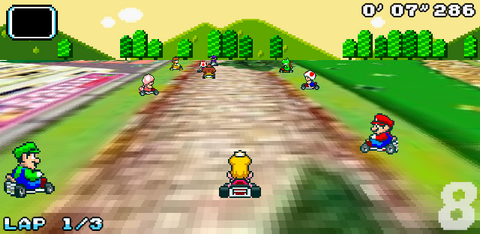 Ajoutez des "PNJs" au jeu !
Défis - Plus de décors dans les options de setup
Les décors dans l'éditeur de défis ont également été améliorés ! Vous pouvez maintenant ajouter tous ces types de décors pour un défi spécifique :
huile
,
flipper
&
pare-chocs
,
aiguille d'horloge
.
Mais ce n'est pas tout! Vous pouvez également sélectionner vos
décors custom
dans ces options

Vous pouvez même sélectionner des décors d'autres membres via un lien de collaboration ! Finies les limitations dans les décors supplémentaires que vous souhaitez mettre dans vos circuits !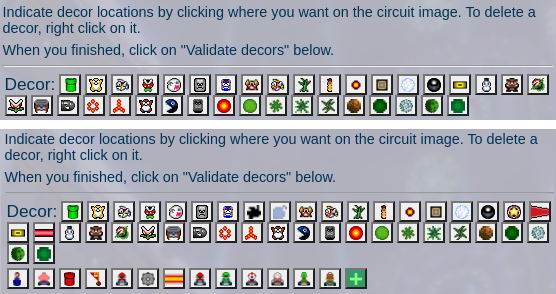 Avant/Après. Je vous laisse jouer au jeu des 7 différences

Propriétés du décor
Autre ajout qui débloquera encore plus de possibilités, les
propriétés de décor
 !
Comment ça marche? Pour votre décor, vous pouvez modifier les propriétés du décor de base. Par exemple, vous pouvez faire en sorte qu'un décor n'ait
pas de hitbox
 ! Très utile pour les types de décor purement cosmétiques que vous ne souhaitez pas voir interagir avec le reste du jeu.
Plus généralement, il existe 3 propriétés que vous pouvez spécifier :
-
hitbox
(si désactivé, vous ne serez pas bloqué lorsque vous toucherez le décor)
-
dégâts de collision
(si activé, votre kart tournera lorsque vous le toucherez, comme les thwomp et les serpents de feu)
-
breaking/unbreaking
(possibilité de détruire le décor avec l'objet "étoile"
)
Pour modifier les propriétés du décor, allez simplement dans les options avancées de l'éditeur.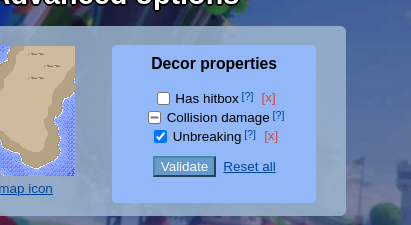 Petite subtilité, la checkbox a 3 états : par défaut (conserver la valeur du décor de base), cochée (activer) et décochée (désactiver)
Créer un décor à partir d'une URL
Toutes ces nouveautés sont cools, mais ça va consommer beaucoup de stockage d'essayer tout ça

Pas de soucis, on y a pensé

Vous pouvez maintenant créer un décor à partir d'une
URL d'image
plutôt que de la télécharger sur MKPC, comme pour les circuits et les arrière-plans personnalisés ! Finie l'utilisation du quota


Uploadez votre image sur Discord pour économiser du stockage !
Autres nouveautés
Quoi, ce n'est pas fini?

Eh non ! 2 nouveautés bonus ont été intégrés à cette mise à jour :
-

Possibilité de sélectionner une
vitesse personnalisée
pour le type de décor de bus. Ça pourrait être utile pour reproduire la mission MKDS "finir avant la voiture".
-
Possibilité d'
ajouter des boîtes à objets supplémentaires
dans les options de setup du défi. Placez des objets où vous voulez pour un défi spécifique, comme vous pouviez le faire avec des décors.
Bref, beaucoup de nouvelles options comme vous pouvez le constater ! En espérant vous voir exploiter cette mise à jour à son plein potentiel pour encore plus de créativité dans les circuits


25

14

14

14

16

13

16

11

16

13

13

13

12

9

11

8

11

7

9

9

4

2

2

3

4

3

4

4

2