/!\ New controls options / Nouveaux contrôles !
Published on 2023-01-14 at 18:37:49
A new MKPC update has arrived!

It brings new options to the
game controls

More precisely, 2 major improvements have been implemented, that should satisfy
both PC and mobile
gamers!
Better mobile controls
Until now, it has always been quite impractical to play MKPC on a mobile device. You had buttons to emulate keys on a keyboard, but this virtual keyboard was quite limited and not very handy.
I completely reviewed the layout to make it way easier to use!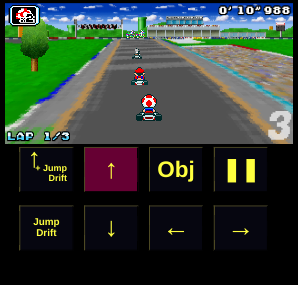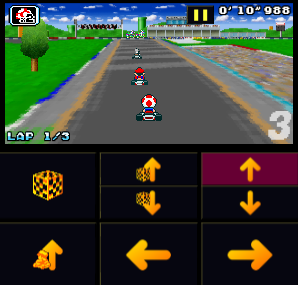 Old VS New version
So what was improved on the new version?
-
More input controls
, you can now send item backwards and forwards.
-
Auto-accelerate
option! By default, the up arrow is pressed, which gives you one additional finger to do whatever else you want (jump, drift, send item...).
-
Bigger buttons
, that will reduce the risk of missclicking (occurred frequently when I used the previous keyboard)
- More
optimized layout
, the options that you don't use a lot (pause, item direction) have been moved to less accessible places of the screen.
But that's not all! I added
2 other ways
to control your kart!
-
Touch controls
! It works similarly to Mario Kart Tour, you swipe the screen to turn and send items. For more information on how it works, check out this page:
https://mkpc.malahieude.net/helpTouchCtrls.php
-
Gyroscope controls
! Rotate your device like with a steering wheel to turn.
Small disclaimer though:
Even though I worked a lot to optimize these control options, I personally find them less ergonomical than the virtual keyboard. But it can still be useful in some cases (if you want a MKT-like experience, if you want to play in full screen, or if you have only one finger available)
You can enable all this options by clicking on the settings icon at the bottom of the screen.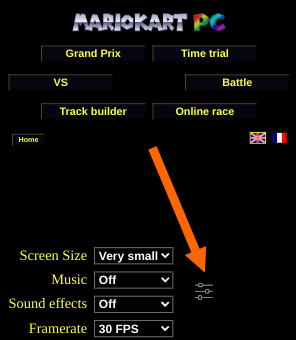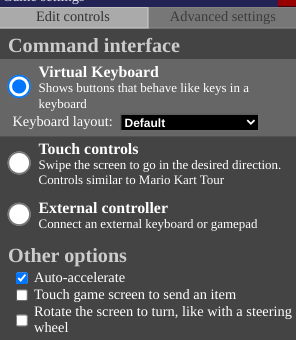 Lots of options available!
What if you want to go back to the
old controls version
?
I encourage you to test the new controls first, they are normally better once you get used to it. If you still want to do it though, you have the possibility! Just select "Old version" in Keyboard layout and uncheck all checkboxes at the bottom.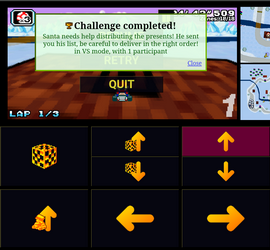 Proof that new controls are better: I managed to complete the last advent calendar challenge on mobile \o/
With this additions, overall MKPC experience on mobile should be way better!
Of course it will still be less convenient than on a real PC, which is why a there is a second part to this update!

Controller support!
This update has been requested many times on the site! You can now
connect an external gamepad
and play MKPC with it!
To enable it, just click the same settings icon at the bottom, and select "Gamepad" at the top right.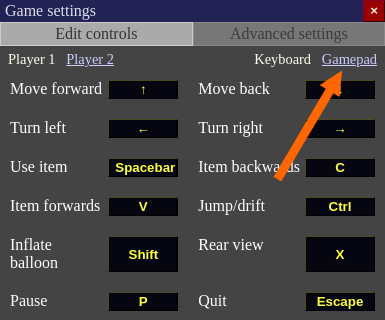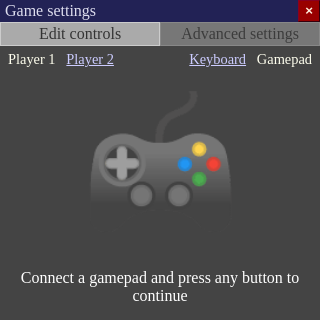 Once connected, you can select the inputs you want for each control. If you use a Switch controller, I set default controls to the same as Mario Kart 8, so you probably can leave them as is.
For a better experience, I made sure that you could use the controller for most of the actions. In perticular,
you no longer need the mouse to navigate through the game menu
! Just use the stick and A button to select the items.
And this works with the keyboard too!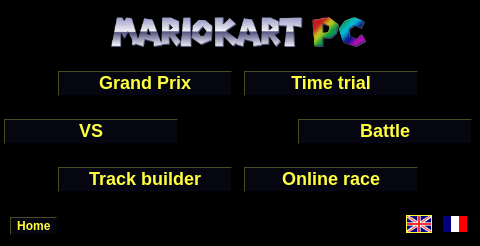 It will now be way quicker to navigate through the menu!
How about the game itself? Well, I let you try it by yourself, but I personally feel that the experience changes a lot when you play with a gamepad!

It's like you're playing a completely different game, for a moment I almost had the impression to actually play Mario Kart 8

it's really astonishing.
I didn't try to reverse drift with the gamepad as I already don't manage to do it on a keyboard, but I'm interested to know how it feels

Another cool things that this update will allow:
-
Better local multiplayer
support! Until now the 2 players mode was almost unusable because you are limited to a certain amount of simultaneous key presses on most keyboards. With this update, you can now connect 2 gamepads and play with a friend with no restrictions! You can even have someone play with the keyboard and the other play with a gamepad!
- Even better mobile controls! Because yes,
this works on mobile too

You just need to have a bluetooth controller and pair it with your device. Then select "External controller" in the bottom settings. That's all, you now can enjoy a real gaming experience on mobile!
Need help on how to connect a controller? There are many tutorials available online. For example:
-
Connect a Nintendo Switch Pro Controller to PC
-
Connect Joy-Cons to PC
-
Connect XBox controller to PC
-
Connect controller to Android device
-
Connect controller to Apple device
Thanks for reading, hope you'll enjoy this update as well as I did

Une nouvelle mise à jour vient d'arriver sur MKPC !

Elle apporte de nouvelles possibilités dans les
contrôles du jeu

Plus précisément, 2 améliorations majeures ont été implémentées, qui devraient plaire auusi bien aux
gamers PC que mobile
 !
Meilleurs contrôles sur mobile
Jusqu'à présent, les contrôles sur mobile étaient globalement assez peu pratiques. Il y avait simplement des boutons pour simuler les touches d'un clavier, mais ce clavier virtuel était assez limité et pas très ergonomique.
Dans cette mise à jour, j'ai complètement revu le fonctionnement de ce clavier pour la rendre beaucoup plus agréable à utiliser !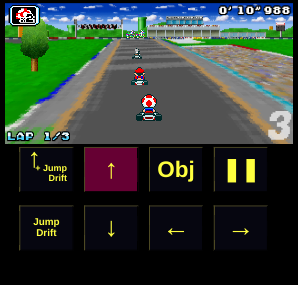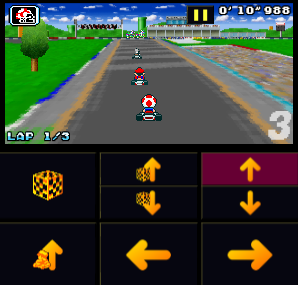 Ancienne VS Nouvelle version
Concrètement, qu'est-ce qui a été amélioré sur la nouvelle version ?
-
Plus de touches
, vous pouvez maintenant envoyer un objet en avant et en arrière.
- 
Option d'accélération automatique
 ! Par défaut, le bouton d'accélération est maintenu enfoncé, ce qui vous donne un doigt supplémentaire pour faire tout le reste (sauter, déraper, envoyer un objet...).
-
Des boutons plus gros
, qui réduiront le risque de missclick (ce qui m'arrivait fréquemment avec l'ancien clavier)
- Une
disposition plus optimisée
, les options que vous utilisez peu (pause, direction de l'objet) ont été bougées aux zones les moins accessibles de l'écran.
Mais ce n'est pas tout ! J'ai ajouté
2 nouvelles options
pour contrôler votre kart !
- Les
contrôles tactiles
 ! Ils fonctionnent de la même manière que Mario Kart Tour, vous déplacez le doigt sur l'écran pour tourner et envoyer des objet. Pour plus d'informations, consultez cette page :
https://mkpc.malahieude.net/helpTouchCtrls.php
-
Contrôles au gyroscope
 ! Pivotez votre appareil pour tourner, comme avec un volant.
Petit disclaimer ceci dit :
Même si j'ai fait de mon mieux pour optimiser ces contrôles, je les trouve personnellement moins ergonomiques que le clavier virtuel. Mais ça peut toujours être utile dans certains cas (Ex : vous voulez une expérience de type MKT, vous voulez jouer en plein écran, ou tout simplement vous n'avez qu'un seul doigt disponible)
Vous pouvez activer toutes ces options en cliquant sur l'icône des paramètres en bas.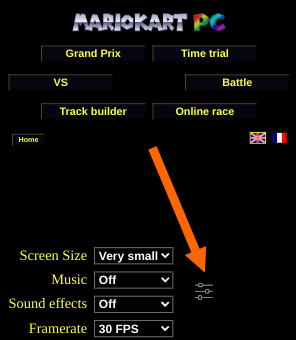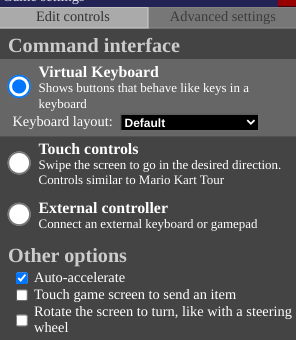 Beaucoup d'options disponibles !
Et si vous souhaitez revenir à l'
ancienne version du clavier
 ?
Déjà, je vous encourage à tester les nouveaux contrôles, qui sont normalement mieux une fois que vous avez chopé l'habitude. Si malgré vous voulez revenir en arrière, vous avez la possibilité ! Sélectionnez simplement "Ancienne version" dans la disposition du clavier et décochez toutes les cases en bas.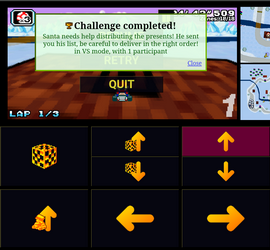 Preuve que les nouveaux contrôles sont mieux : j'ai réussi le dernier défi du calendrier de l'avent sur mobile \o/
Ces nouveautés devraient rendre l'expérience globale de MKPC bien meilleure sur mobile !
Bien sûr ce sera toujours moins pratique que sur un vrai PC, c'est pourquoi il y a une deuxième partie à cette mise à jour !

Support des manettes !
Une mise à jour qui a été demandée de nombreuses fois sur le site ! Vous pouvez maintenant
connecter une manette externe
et jouer à MKPC avec !
Pour ce faire, cliquez simplement sur la même icône de paramètres en bas et sélectionnez "Manette" en haut à droite.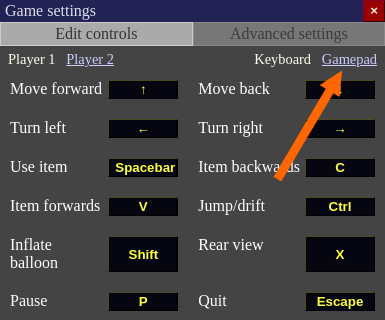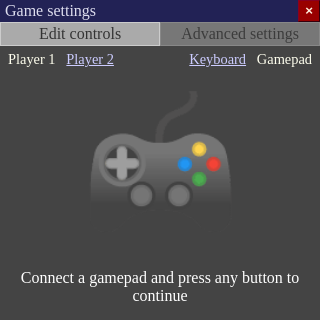 Une fois connectée, vous pouvez choisir les contrôles pour chaque commande. Si vous utilisez une manette Switch, j'ai mis par défaut les mêmes commandes que Mario Kart 8, vous pouvez donc probablement les laisser telles quelles.
Pour une meilleure expérience, j'ai également fait en sorte que vous puissiez utiliser la manette pour la plupart des actions. En particulier,
vous n'avez plus besoin de souris pour naviguer dans le menu du jeu
 ! Utilisez simplement le stick et le bouton A pour sélectionner les éléments.
Et bonus : ça fonctionne aussi avec le clavier !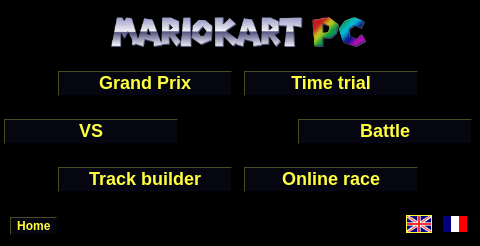 La navigation dans le menu sera beaucoup plus rapide !
Et le jeu dans tous ça ? Et bien, je vous laisse essayer par vous-même, mais perso j'ai trouvé que l'expérience change énormément quand on joue avec une manette !

C'est comme jouer à un jeu complètement différent, j'ai même eu l'impression pendant un moment de jouer à Mario Kart 8

c'est assez étonnant.
Juste je n'ai pas essayé le reverse drift avec la manette vu que je n'arrive déjà pas à le faire au clavier, mais ça m'intéresse de savoir ce que ça donne

Autres trucs sympas que cette mise à jour va permettre :
- Meilleur support du
multijoueur local
 ! Jusqu'à présent, le mode 2 joueurs était quasi inutilisable à cause d'une limitation du nombre de touches simultanées sur la plupart des claviers. Avec cette mise à jour, vous pouvez désormais connecter 2 manettes et jouer avec un ami sans aucune restriction ! Vous pouvez même faire jouer un des 2 joueurs avec le clavier et l'autre avec une manette !
- Des contrôles sur mobiles encore meilleurs ! Parce que oui,
ça marche aussi sur mobile

Il vous suffit d'avoir une manette bluetooth et de l'associer avec votre appareil. Sélectionnez ensuite "Contrôleur externe" dans les paramètres en bas. C'est tout, vous pouvez désormais profiter d'une véritable expérience de jeu sur mobile !
Besoin d'aide pour connecter une manette ? De nombreux tutoriels sont disponibles en ligne. Par example:
-
Connecter une manette Nintendo Switch Pro à un PC
-
Connecter des Joy-Cons à un PC
-
Connecter une manette XBox sur PC
-
Connecter une manette à un appareil Android
-
Connecter une manette à un appareil Apple
Merci d'avoir lu, j'espère que vous apprécierez cette mise à jour autant que moi


17

21

15

13

15

13

9

10

8

10

11

7