Updates in complete track builder / MàJ éditeur complet
Published on 2022-08-05 at 18:29:36
De nombreuses nouveautés font leur apparition dans l'éditeur complet de MKPC !

De quoi offrir encore plus de libertés sur la création de circuits
Des circuits en "3D" !
2 nouveautés qui vont permettre de donner de la hauteur à vos circuits !
Hauteur mur
Tout d'abord, dans le menu "Murs", vous avez à présent la possibilité de
définir la hauteur
des murs que vous dessinez.

Avec cette option, vous pouvez ainsi définir plusieurs niveaux de hauteur à vos circuits, et ainsi commencer à exploiter la 3e dimension

Cela vous permet également de résoudre un problème récurrent sur les circuits avec des sauts : en effet, par défaut, les sauts permettent de passer par-dessus les murs, ce qui peut être à l'origine de glitchs ou autoriser des raccourcis non prévus par le créateur. Avec cette option, il vous suffit de définir une hauteur suffisamment grande pour empêcher les joueurs de tricher !

Élévateurs
En complément de l'option "hauteur saut", un nouvel outil apparait dans le menu de droite : l'outil "Élévateurs". Imaginez que votre circuit contient des passages permettant de
monter sur un mur
(pente, escalier...).
Vous pourriez faire ce passage avec un saut classique, mais ça donne un effet bizarre (on voit le kart sauter au lieu de monter), et surtout avec la nouvelle notion de hauteur de mur, ce n'est pas très pratique (il faut définir une hauteur de saut adaptée à la hauteur du mur, ce qui peut nécessiter de s'y reprendre à plusieurs fois).
L'outil "élevateurs" résout ces 2 problèmes. Il s'agit simplement d'une zone qui vous
monte à une hauteur spécifique
lorsque vous roulez dessus. Il vous suffit de dessiner une zone à cheval entre le sol et le mur, de définir la hauteur du sol et celle du mur, et vous avez votre escalier fonctionnel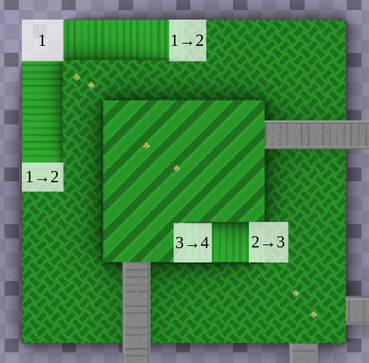 Avec cette option, le Block Fort de MK64 est enfin faisable sur MKPC !
Rotation quelconque
2 nouvelles options arrivent dans l'éditeur pour plus de liberté !
La 1re vous permet de définir une
orientation quelconque
dans les
positions de départ
. Vous n'êtes plus obligé de commencer tout droit !

La 2e option a été beaucoup demandée par la communauté. Elle vous permet de définir des
checkpoints en diagonale
!
Vous pouvez être plus précis sur les checkpoints que vous placez, et donc a fortiori sur le calcul des positions des joueurs au cours de la partie.
Cette option est un peu liée à la première puisqu'elle permet en particulier d'avoir une ligne de départ en diagonale.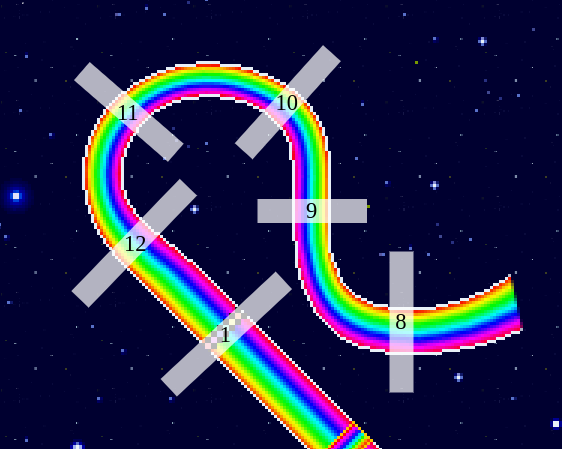 Option "Raccourci"
Encore une option qui risque d'être bien utile ! Vous pouvez à présent définir des
routes de type "raccourci"
dans les trajets ordis. Ces routes seront prises par les bots s'ils possèdent un objet adapté (champi, étoile, ...).

Vous avez même accès à des options avancées pour définir plus précisément
dans quelles conditions
le raccourci doit être pris !


L'option raccourci a d'ores et déjà été implémenté dans les circuits de base de MKPC. Ne soyez donc pas surpris si vous commencez à voir des ordis couper par l'herbe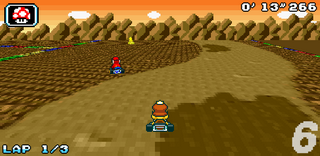 Divers
Quoi, ce n'est pas fini ?!

Et non !

En plus de tout ça, quelques fonctions bonus ont été implémentées :
• Possibilité de définir des
polygones pour les sauts
• Possibilité de choisir une
vitesse de lecture quelconque
pour les musiques Youtube
• Corrections de quelques bugs de l'éditeur (sol mobile circulaire ne fonctionnant plus, pertes de données après redimensionnements de l'image...)

Plus besoin de dessiner 10 rectangles pour faire un saut rond

J'espère que toutes ces nouveautés vous plairont, et vous donneront envie de créer tout plein de circuits sympas !

Many new features are appearing in the complete MKPC editor!

This should offer even more freedom on the creation of circuits
Make "3D" tracks!
2 new coming features that will allow you to give height to your circuits!
Wall height
First of all, in the "Walls" menu, you now have the possibility to
define the height
of the walls you draw.

With this option, you can thus define several levels of height to your circuits, and therefore start to make use of the 3rd dimension

This also allows you to solve a recurring problem on circuits with jumps: by default, jumps allow you to go over walls, which can cause glitches or allow shortcuts unexpected by the creator. With this option, you just need to set a height big enough to prevent players from cheating!

Elevators
In addition to this "jump height" option, a new tool appears in the right menu, the "Elevators" tool. Imagine that your circuit contains passages allowing you to
climb on a wall
(slope, stairs...).
You could do that passage with a regular jump, but it gives a weird effect (you see the kart jumping instead of climbing), and especially with the new concept of wall height, it's not very convenient (you have to define a jump height adapted to the height of the wall, which may require several attempts).
The "elevators" tool solves both problems. It is simply an area that
transports you to a specific height
when you drive over it. All you have to do is draw an area overlapping the floor and the wall, define the height of the floor and that of the wall, and you have your functional staircase.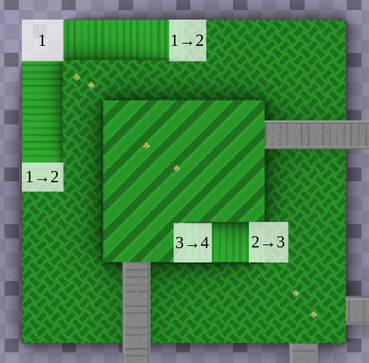 With this option, Block Fort from MK64 is finally doable on MKPC !
Rotation quelconque
2 new options arrive in the editor for more freedom!
The 1st one allows you to define any
orientation
for the
start positions
. You don't have to start straight anymore!

The 2nd option has been much requested by the community. It allows you to set
diagonal checkpoints
!
This way you can be more precise on the checkpoints you place, and therefore on the calculation of the positions of the players during the game.
This option is somewhat related to the first since it allows in particular to have a diagonal starting line.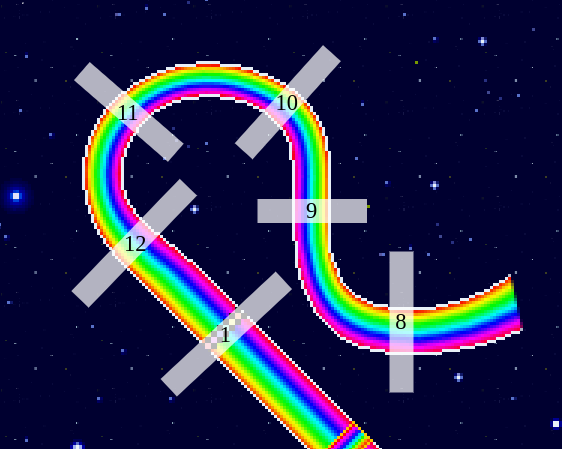 "Shortcut" option
Another option that could be very useful! You can now define
shortcut paths
in CPU routes. These paths will be taken by the bots if they have a suitable item (mushroom, star, ...).

You even have access to advanced options to define more precisely
under what conditions
the shortcut should be taken!


The shortcut option has already been implemented in the base MKPC tracks. So don't be surprised if you start seeing bots cutting over the grass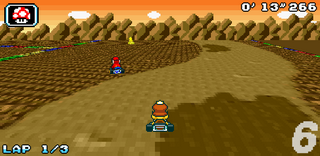 Divers
What, it's not over yet?!

No it isn't !

In addition to all this, some bonus features have been brought to you:
• Ability to define
polygons for jumps
• Ability to choose a
custom playback speed
for Youtube musics
• Fixed some editor bugs (circular moving floor no longer working, loss of data after resizing the image...)

No longer need to draw 10 rectangles to make a circular jump

I hope that you'll like all these new features, and that it'll make you want to create lots of cool tracks!


44

22

27

22

20

20

19

17

18

21

22

21

19

16

18

17

14

12

12

15

16

12

12

12

17

5

1

1