--Cosmic--'s profile
Last nick: --FK_Cosmic--
General stats

12 followers

10 followings

15802 pts
-
Master
[?]
- 298
th

5681 pts
-
Novice
[?]
- 727
th

341 pts
-
149 challenges
won - 58
th

168 messages
-

Bowser
[?]
38 created circuits - 6 cups
7 challenges created
0 shared character
116 comments on circuits
54 records in time trial
7 topics followed
About
Description :
Hello, I love Kirby and MarioKart.
I am from the UK and have played MKPC for two years, but on an old forgotten account.
@Poyo2333_
is the old one.
I also make Future of Europe videos.
This is my main account and I hope to make this game a better place for all.
See you on the tracks!
Achievements:
38th in Time Trials
Online - Races:
10K- 03/02/2021
15K- 26/02/2021
20K- ???
Online - Battle:
10K - ???
54th in Challenges Leaderboard
Before my flagcounter update.(3/03/2021)
US- 24
FR- 19
UK- 15
UAE- 6
CAN- 5
POL- 2
GRE- 2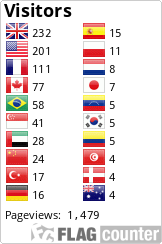 United Kingdom
12 years old (Born on 12/10/2008)
Registered since 07/01/2021
Last connection: 10/06/2021
Last messages on the forum :

ill join i guess
This is Season 2 this was like a year ago
Edit from Veethan23 : Yep it's right, i'm locking this topic since right now we are even at the end of the Season 3
I kinda forgot about this topic. But i came back to say that i started reading a new series. I am reading Warriors series 3 Power of Three book one The Sight.
Nice

I may have to quit as my assesments are coming in weeks and I havent been able to paly for a while, so I think that I will be a casual player. Is that fine?
---
Best created circuits :
Four Environment Raceway Up...

6

Desert Oasis

6

King Dedede's Island Fortress

15

ANCH Nook's Courtyard 2

8

Shell Island Cup

2
---
Best created challenges :
---
Last circuit comments :
---
Last completed challenges :
---
Best scores in time trial :
| | | | | |
| --- | --- | --- | --- | --- |
| Rank | Class | Circuit | Character | Time |
| 30th | 150cc | Cheep-Cheep Island | | 1:46:513 |
| 30th | 150cc | Broken Pier | | 1:24:527 |
| 36th | 150cc | Sunset Wilds | | 1:59:452 |
---
Last followed topics :