Collaborate with other members! / Collaborez avec d'autres membres !
Published on 2022-10-22 at 19:28:18
Un nouvelle mise à jour arrive sur MKPC ! Elle vous offre une fonctionnalité de
collaboration
qui vous permet de
réaliser des créations à plusieurs
!

Comment ça marche ?
Concrètement, pour une de vos créations données (circuit, décor, perso...), vous avez la possibilité de
générer un lien de partage
. Cela fonctionne un peu comme sur Google Docs pour ceux qui connaissent, vous partagez ce lien à d'autres personnes pour leur donner la possibilité de collaborer avec vous. En fonction des droits que vous leur donnez, ils pourront faire plus ou moins de choses avec votre création.
Pas encore très clair ? Voyons ensemble de manière plus concrète tout ce que vous allez pouvoir faire avec cette fonctionnalité

Travaillez ensemble sur un circuit
Besoin d'aide pour avancer sur un circuit un peu complexe ? Vous avez commencé à placer certains éléments et vous voulez qu'un autre membre poursuive votre travail ? Vous ne savez pas comment placer vos checkpoints et vous voulez que quelqu'un le fasse pour vous ?
Jusqu'à présent, il était impossible de faire ça facilement sans donner un accès complet à votre compte à l'autre personne. Il y a bien eu plusieurs tentatives de
compte communautaire
, mais ce n'est pas très pratique, ça suppose d'avoir effectivement créé vos circuits avec ce compte, et il suffit d'un membre troll ayant accès au compte pour casser toutes les créations...

Avec cette mise à jour, finies les prises de tête ! Générez simplement un lien de collaboration pour le circuit en question et envoyez ce lien aux membres souhaités ! Pour cela, il vous suffit d'aller sur la page du circuit et de cliquer sur "Collaborer..."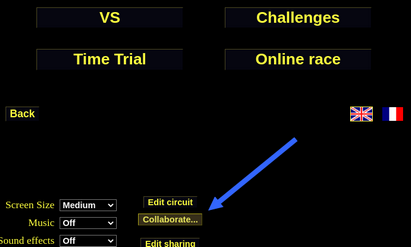 Dans les options, cochez la possibilité de
Modifier le circuit
, et validez.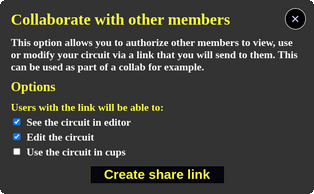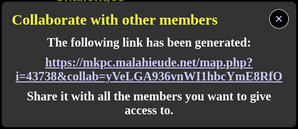 C'est tout ! Vous n'avez plus qu'à envoyer ce lien à un autre membre, il aura accès à l'éditeur, comme si c'était un circuit à lui.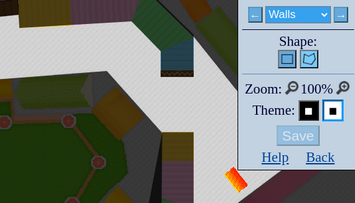 Le membre peut maintenant modifier votre circuit !
Vous pouvez faire de même sur les arènes, les persos, les décors, et les arrière-plans.

Collaborez sur votre arrière-plan ! L'option fonctionne de manière similaire
Pas mal, hein ? Mais attendez, ce n'est pas fini ! vous pouvez faire bien plus avec cette mise à jour

Travaillez ensemble sur une coupe
Une autre option qui devrait être bien pratique : la possibilité de
réunir les circuits de plusieurs membres différents
dans une coupe ou une multicoupe.
Avant cette mise à jour, vous étiez limité aux circuits que vous aviez vous-même créé. Un peu dommage, non ?
Et bien, cette limitation n'est plus maintenant ! Utilisez simplement le lien de partage pour importer le circuit d'un autre membre dans votre coupe.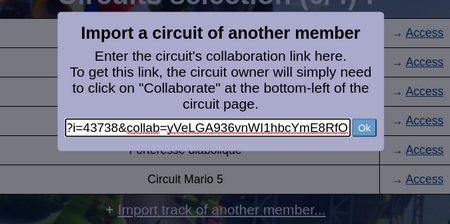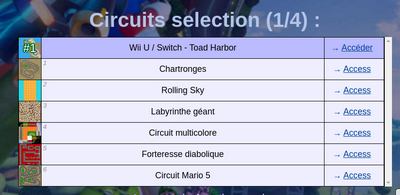 Collaborez pour votre coupe !
Cette option devrait simplifier des projets tels que
MK8 pour MKPC
qui jusqu'à présent nécessitait une intervention manuelle de ma part. En espérant que d'autres projets du même acabit verront le jour grâce à ça !

Partagez vos décors et arrière-plans
Un autre intérêt de cette mise à jour, elle devrait simplifier le partage de vos décors et arrière-plans pour permettre à d'autres membres de les utiliser.
Ce partage était déjà possible avant, des topics ont même été créés pour ça (
ici
et
ici
), mais c'était assez manuel, il fallait envoyer l'image sur le topic, et l'autre membre devait sauvegarder l'image, créer soi-même un nouveau décor et uploader l'image.
En plus d'être fastidieux, la copie a également des inconvénients (consommation du quota de stockage pour les 2 membres, et si le décor est modifié d'un côté, les modifications ne sont pas répercutées de l'autre).
Avec l'option de collaboration, le partage de ressources est beaucoup plus simple ! Il vous suffit de générer un lien et de le mettre sur le topic, et les autres membres pourront l'utiliser dans leur circuit en important le lien. Plus de réupload nécessaire !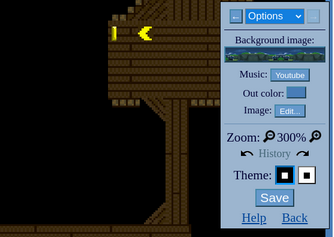 Simple comme bonjour !
Utilisez les persos d'autres membres
De la même manière, vous pouvez importer les persos des autres membres dans vos multicoupes via un lien de collaboration. De quoi pousser encore plus la collaboration en combinant les meilleures créations de tout le monde !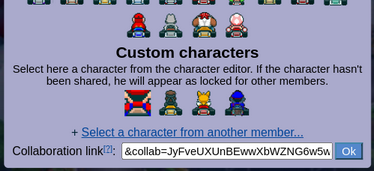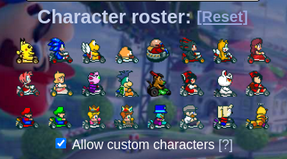 Combinez les persos des autres membres pour créer le roster ultime !
Vous pouvez également utiliser le lien de collaboration pour les persos à débloquer à travers les défis.
À vous de jouer !
Cette mise à jour vous permet donc de nombreuses possibilités en matière de collaboration.
En espérant qu'elles vous plaira et vous permettra de réaliser des projets toujours plus ambitieux !

A new update is coming to MKPC! It offers you a
collaboration
feature that allows you to
make creations with others
!

How does it work?
Concretely, for one of your given creations (circuit, decor, character...), you have the possibility to
generate a share link
. It works similarly to Google Docs for those who know, you share that link to other people to give them the ability to collaborate with you. Depending on the rights you give them, they'll be able to do more or less with your creation.
Not very clear yet? Let's see together in a more concrete way all that you'll be able to do with this feature

Work together on a circuit
Need help to progress on a quite complex track? You started placing some elements and want another member to continue your work? Not sure how to place your checkpoints and you want someone to do it for you?
Until now, it was impossible to do this easily without giving full access to your account to the other person. There have been several attempts at a
community account
, but it's not very practical, it assumes that you have actually created your circuits with this account, and all you need is a troll member with access to the account to break all the creations ...

With this update, no more headaches! Simply generate a collaboration link for the circuit in question and send this link to the desired members! To do this, simply go to the circuit page and click on "Collaborate...".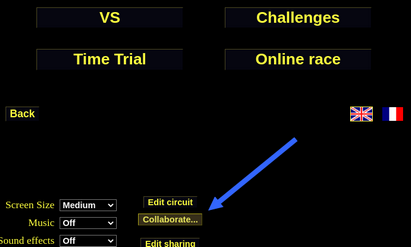 In the options, check the possibility to
Edit the circuit
, and validate.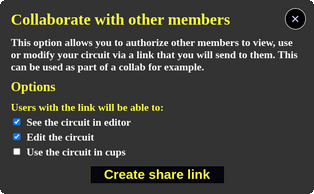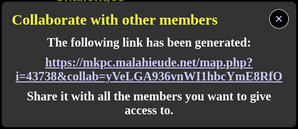 That's it! You just have to send this link to another member, he will have access to the editor, as if it were his own circuit.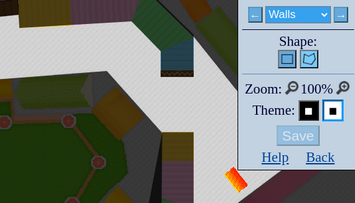 The member can now modify your track!
You can do the same on arenas, characters, scenery, and backgrounds.

Collaborate on your background! The option works similarly
Not bad huh ? But wait, it's not over! you can do much more with this update

Working together on a cup
Another option that should be very practical: the possibility of
combining the circuits of several different members
in a cup or a multicup.
Prior to this update, you were limited to tracks that you created yourself. A bit too bad, right?
Well, that limitation is over now! Simply use the share link to import another member's circuit into your cup.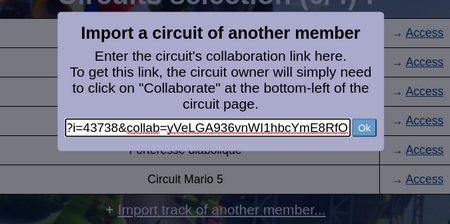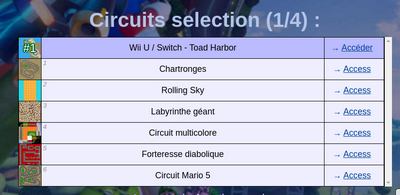 Collaborate for your cup!
This option should simplify projects such as
MK8 for MKPC
which until now required manual intervention on my side. Hoping that other projects of the same ilk will see the light of day thanks to this!

Share your decors and backgrounds
Another advantage of this update, it should simplify the sharing of your decorations and backgrounds to allow other members to use them.
This sharing was already possible before, topics have even been created for that (
here
and
here
), but it was quite manual, you had to send the image to the topic, and the other member had to save the image, create a new one yourself decor and upload the image.
In addition to being tedious, the copy also has some disadvantages (consumption of the storage quota for the 2 members, and if the decoration is modified on one side, the modifications are not reflected on the other).
With the collaboration option, sharing resources is much easier! All you have to do is generate a link and put it on the topic, and other members can use it in their circuit by importing the link. No more reupload needed!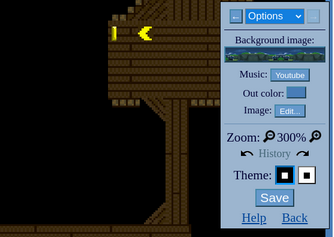 Easy as pie!
Use characters from other members
In the same way, you can import the characters of other members into your multicups via a collaboration link. Enough to push the collaboration even further by combining the best creations from everyone!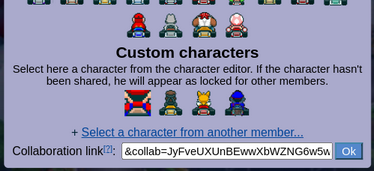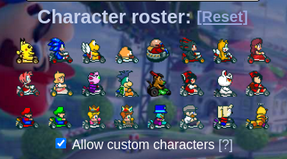 Combine characters from other members to create the ultimate roster!
You can also use the collaboration link for characters to unlock through challenges.
Over to you!
As you can see, this update offers you many possibilities in terms of collaboration.
Hopefully you will like them and it will allow you to realize ever more ambitious projects!


24

21

19

20

19

17

17

19

21

17

18

16

15

18

17

9

16

14

13

13

12

15

3

3