DS battles in track builder / Arènes DS dans l'éditeur !
Published on 2021-05-02 at 16:43:56
Une nouvelle maj MKDS apparait !
Après l'implémentation des circuits DS normaux, l'intégration de ces circuits dans l'éditeur simplifié, et l'ajout des arènes DS classiques, cette mise à jour continue la suite logique en portant les
arènes DS dans l'éditeur simplifié
!

Ce n'est pas moins de
5 nouveaux thèmes
qui font leur apparition dans l'éditeur d'arènes !
Merci à
@ToxTurtle101
qui a beaucoup contribué au project en réalisant le design de toutes les pièces.
Nintendo DS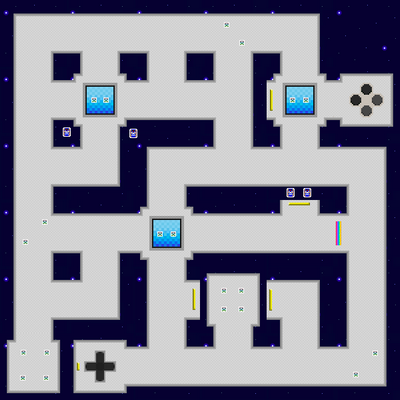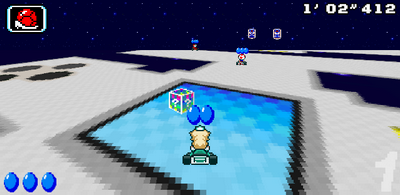 Le thème classique de la Nintendo DS vous permet de réaliser des batailles en plein milieu de l'espace ! Attention à ne pas tomber dans le vide...
Le thème reprend l'esprit de l'arène originale avec des pièces "écran" et "bouton".

Maison de l'aube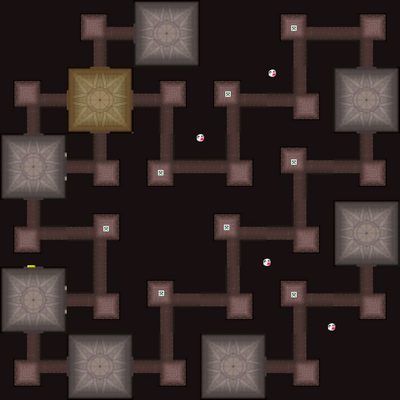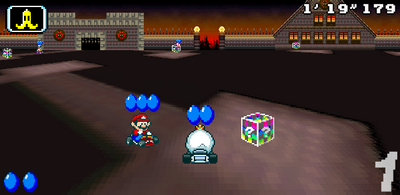 Ce thème, très proche de l'original, vous met à disposition les pièces d'intérieur pour les intersections, et les pièces d'extérieur pour les virages.
Vous pouvez ainsi construire un grand manoir avec plein de salles, ou au contraire faire des labyrinthes de virages étroits où la chute est fatale

Feuille de Palmier
Cette arène existe en 2 variantes :
connecté
et
séparé
.
Le mode connecté vous donne des pièces qui sont toutes reliées les unes avec les autres. Il vous permet ainsi de créer de longs couloirs de sable.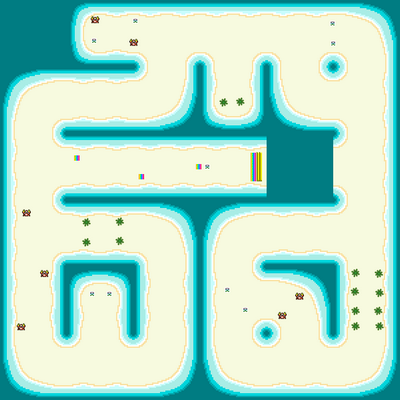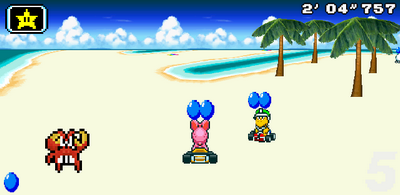 Le mode séparé, au contraire, vous fournit des pièces avec de l'eau au milieu. Vous pouvez ainsi construire des îlots séparés les uns des autres, un peu comme sur la map d'origine.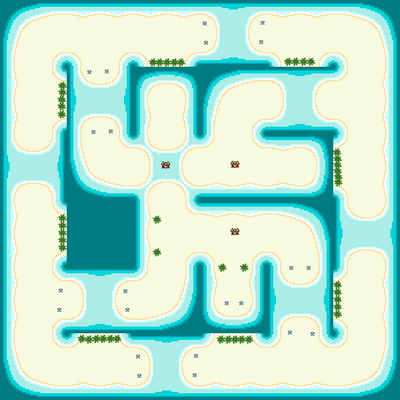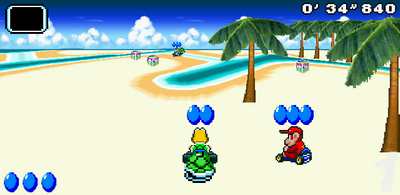 Comme dans l'arène de base, les crabes et les palmiers sont de la partie, ainsi que la mécanique de
marée montante et descendante
!

Tarte Sucrée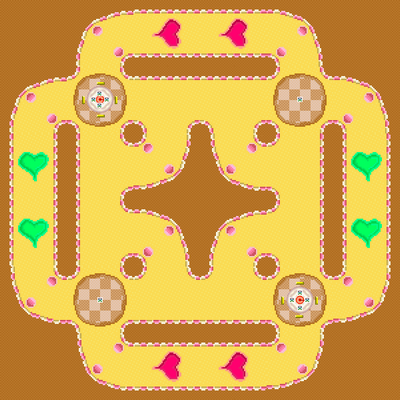 Enfin, vous avez le thème
Tarte Sucrée
avec ses pièces pleines de sucreries ! Attention, les parties chocolatées sont glissantes

Ce thème vous offre également un
décor en forme de gâteau
que vous pouvez placer où vous voulez

À vous de jouer !
Vous avez ainsi accès à 5 nouveaux sets qui ont chacun leurs particularités. À vous de les exploiter au mieux pour construire de nouvelles arènes uniques !
Merci encore à Tox pour sa contribution, et j'espère que cette maj vous plaira

Another DS-related update appears!
After implementation of regular DS circuits, integration of these circuits in quick track builder, addition of basic DS battle courses, this update continues the pattern by bringing
DS arenas in quick track builder
!
No less than
5 new themes
are appearing in the arena editor!
Thanks to
@ToxTurtle101
who contributed a lot to this project by making the design of all the pieces.
Nintendo DS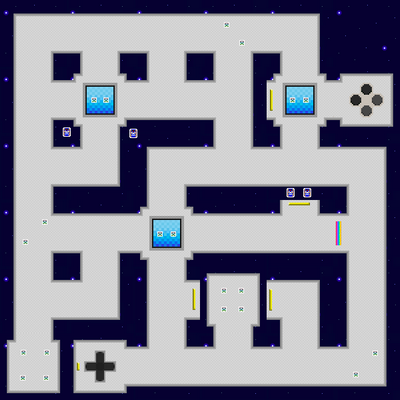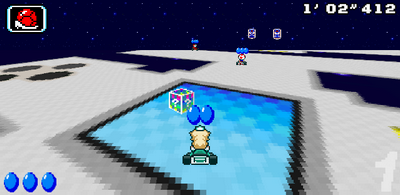 The classic Nintendo DS theme lets you make battles right in the middle of space! Be careful not to fall into the void ...
The theme takes up the spirit of the original arena with screen and button pieces.

Twilight House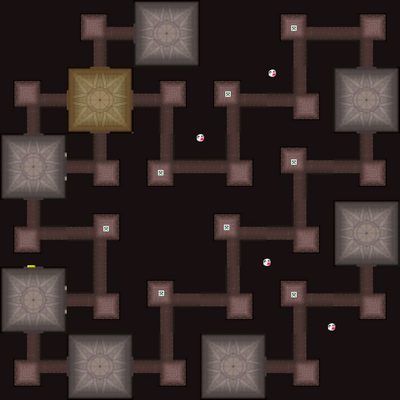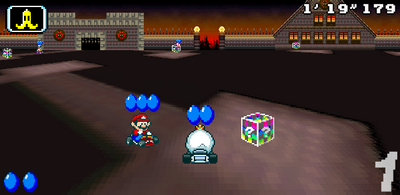 This theme, very close to the original, provides you with indoor pieces for intersections, and outdoor pieces for turns.
You can build a large mansion with lots of rooms, or on the contrary make labyrinths of narrow turns where the fall is fatal

Palm Shore
This arena exists in 2 versions:
connected
and
separate
.
Connected mode gives you pieces that are all linked with each other. It allows you to create long corridors of sand.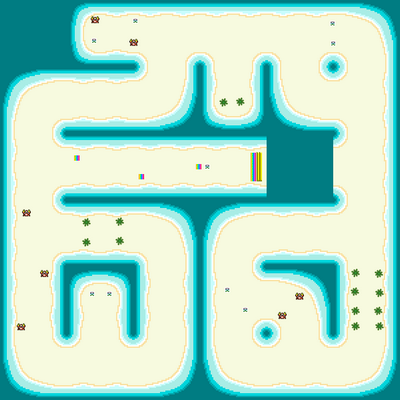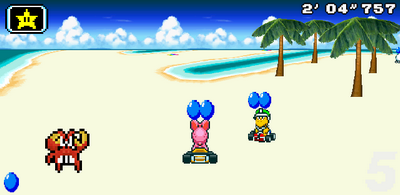 Separate mode, on the other hand, provides you pieces with water in the middle. You can thus build islands separated from each other, a bit like on the original track.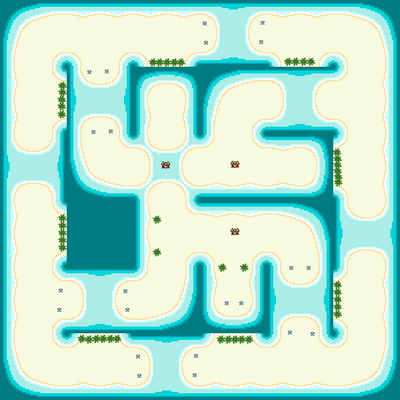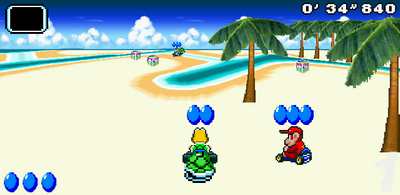 Like in the base arena, crabs and palm trees are present, as well as the
rising and falling tide mechanics
!

Tart Top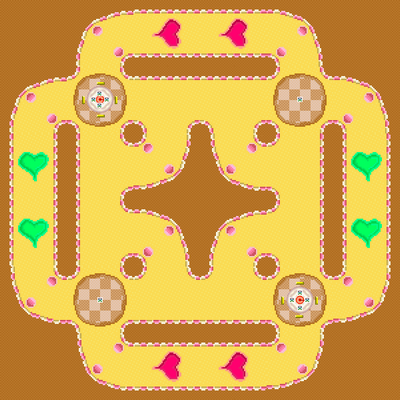 Finally, you have the
Tart Top
theme with its pieces full of sweets! Be careful, the chocolate parts are slippery

This theme also gives you a
cake topper decor
that you can place anywhere you want.

It's your turn!
You thus have access to 5 new sets which each have their own particularities. It's up to you to make the best use of them to build new unique arenas!
Thanks again to Tox for his contribution, and I hope you'll enjoy this update


4