10 ans de Minecraft!
Published on 2019-05-17 at 20:43:18
Aujourd'hui, Minecraft fête ses 10 ans! Et oui, notre bon jeu de survie cubique existe depuis une décennie, ça ne nous rajeuni pas, hein?
Pour fêter l'évènement de leur jeu phare, Mojang lance
Minecraft Earth
, un jeu mobile (un jeu avec plus ou moins les mêmes idées que
Pokemon Go
), jeu qui est GRATUIT! Donc un petit cadeau de la part des développeurs, pour le plaisir des fans du jeu cubique.

Mais ce n'est pas tout! En effet, pour le jeu principal, Mojang nous a également concocté une carte musée! Mais musée de quoi me direz-vous? Mais un musée de l'histoire de Minecraft! Revivre toutes les mises à jour, les monstres, animaux, blocs, objets, tout ce qui a vu le jour dans un des jeux les plus populaires de l'histoire du jeu vidéo! Allez-vous visiter le musée?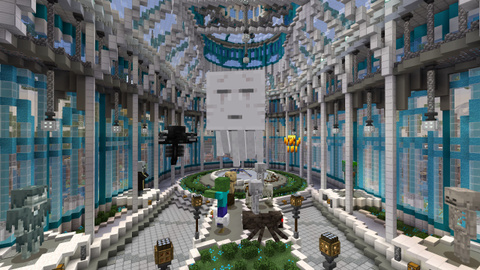 Today, Minecraft celebrate his 10th anniversary! Yes, our good cubic survival game does exist since 10 years, that will not make us younger, eh?
To celebrate the event of their main game, Mojang launched
Minecraft Earth
, a mobile game (who took more or less the ideas of
Pokemon Go
, game who is totally FREE! So that's a little present from the development team, for the pleasure of the fans.

But that's not all! In fact, for the main game, Mojang also have created a museum map! But a museum of what you may say? It's a museum about the whole history of Minecraft! Every update, every monster, every animal, every bloc, every object so far who was able to see the light of the day in one of the most popular games of video games history! Will you visit the museum?