PixelJunk Scrappers Deluxe Will Clean Up On Switch This Year/PixelJunk Scrappers Deluxe va nettoyer sur Switch cette année
Published on 2023-02-11 at 22:27:42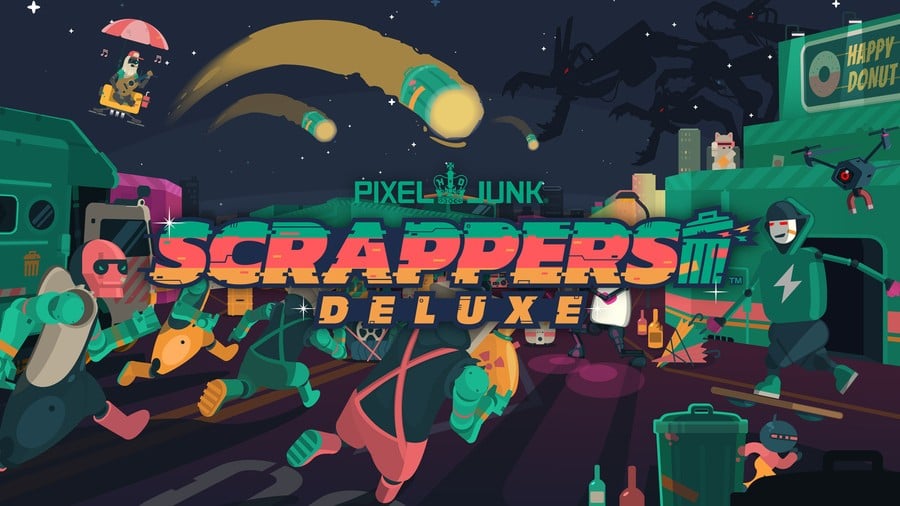 Q-Games has announced that PixelJunk Scrappers Deluxe, previously only coming to PC, will now also be brawling onto Switch later this year!
Scrappers Deluxe is an expanded version of the Apple Arcade game that launched in 2020, and in the grand tradition of PixelJunk genre blending, this one combines the fun of a party game with the chaos of a brawler. Plush it's got that classic PixelJunk simplicity that's kept fans coming back for more over the series' 15-years.
You'll be able to duke it out with friends, whatever platform they pick the game up on, as cross-platform multiplayer is available. And there's plenty to unlock to make sure you and your friends keep scrapping it out. Q-Games founder Dylan Cuthbert has said that there's "more PixelJunk news to come and we can't wait to share what we've been working on" later this year, so we'll be on the edge of our seats until there.
Here's a brand new look at the game, along with what to expect from Scrappers Deluxe, from the developer:
Players take on the role of the Scrappers, a team of humanoid trash collectors in a not-so-distant future. The goal is to clean up a city overrun with trash following the end of humanity. Trash means cash in Junktown, with rival squads attempting to interfere and bag the rewards for themselves.
Feature Overview:
● 5 vibrant areas to explore with over 25 stages
● Local and online multiplayer for up to 4 players
● Cross-platform multiplayer support
● Multiple fighting styles with a variety of melee and ranged weapons to unlock
● Weapon drops make no two playthroughs the same
● Over 100 unique custom truck parts to discover
● Wide variety of unique Scrappers to recruit for your roster
● Frantic mini-games with head-to head modes
● Pop-art cyberpunk-world that draws inspiration from real-world Japan.
With cross-platform online multiplayer support for up to 4 players and the option for local co-op, PixelJunk Scrappers Deluxe provides multiple exciting play modes alongside a series of frantic mini-games. Players are encouraged to compete against the clock to collect as much garbage as possible. The higher the stack, the bigger the bonus, with a huge selection of characters, weapons and truck parts to unlock.
Here are some Images of the game: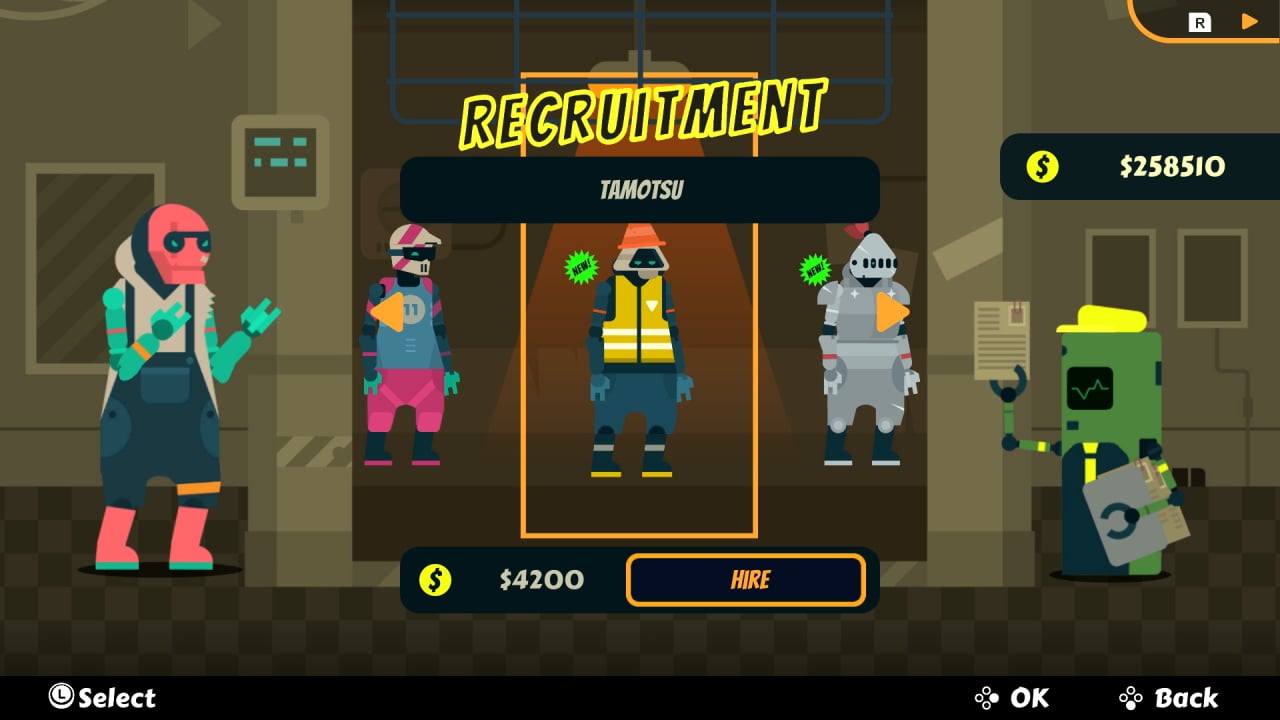 The characters look pretty good, especially the one with the traffic cone hat.
The gameplay looks good.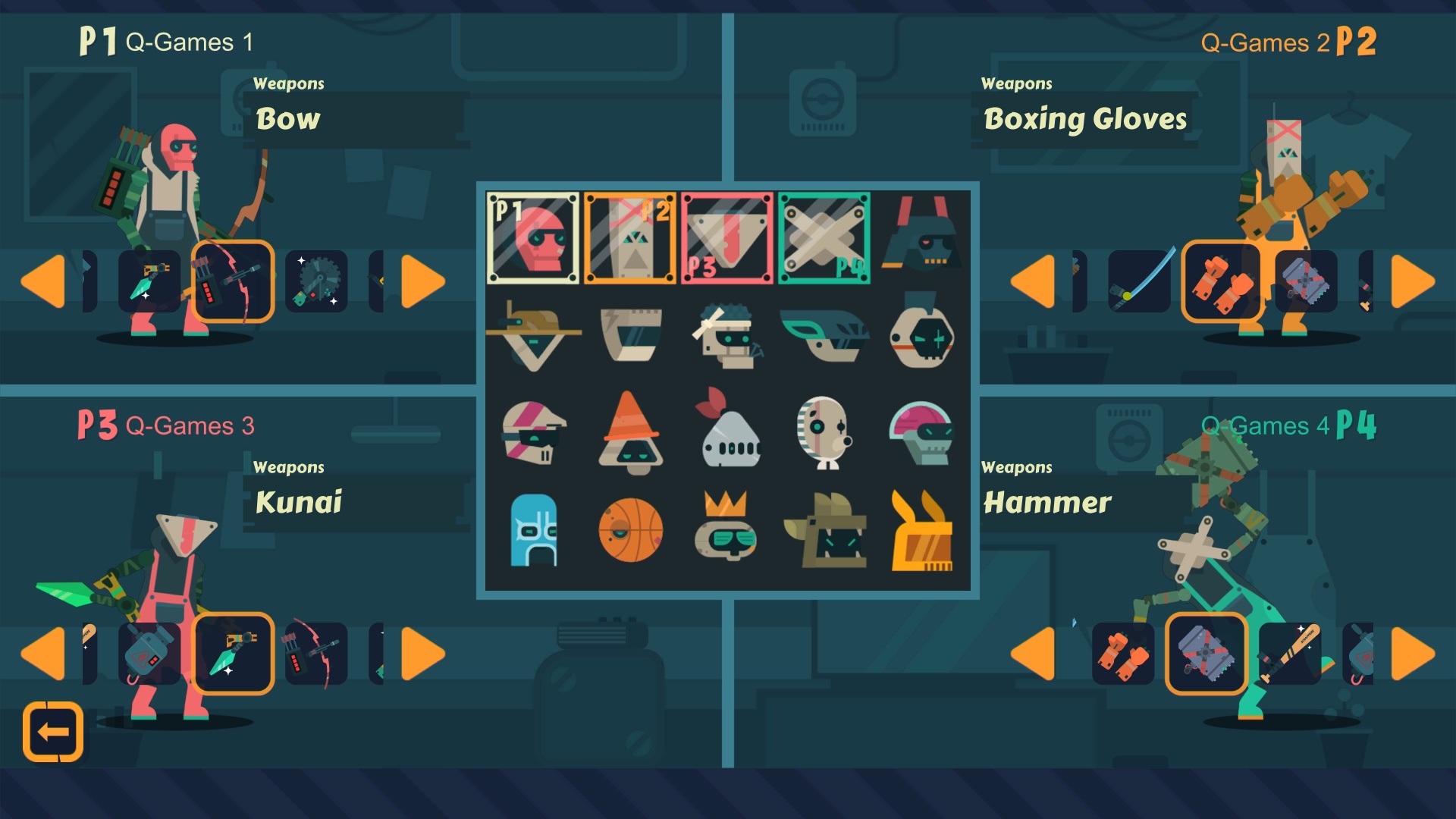 The Weapons are pretty nice.
The only type of trash you'll be taking out in PixelJunk Scrappers Deluxe is your friends as you claim victory. With tons of stages, hundreds of items, and lots of customisation, this looks like something that'll keep us busy for hours on end.
PixelJunk Scrappers Deluxe launches on Switch sometime in 2023. Are you a fan of the PixelJunk series? Let us know what you think of this new game in the comments — but no trash talk, please!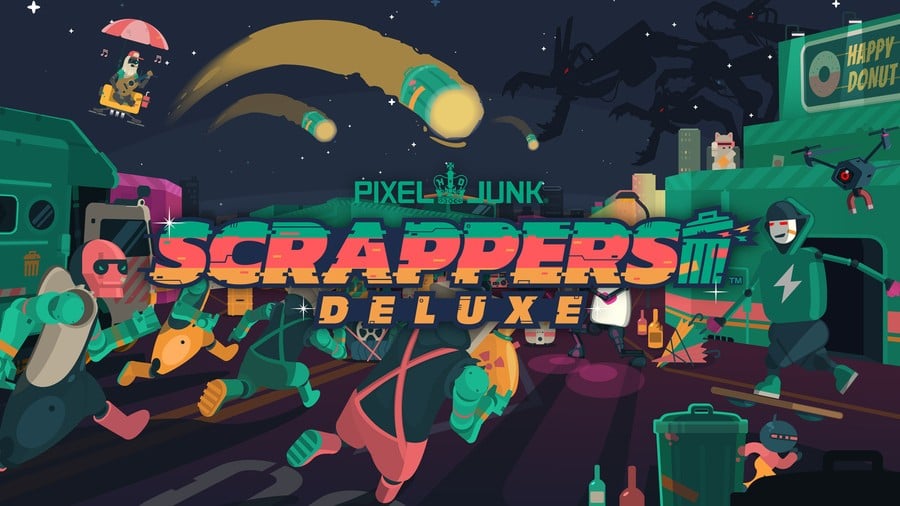 Q-Games a annoncé que PixelJunk Scrappers Deluxe, qui n'arrivait auparavant que sur PC, se battra désormais également sur Switch plus tard cette année !
Scrappers Deluxe est une version étendue du jeu Apple Arcade lancé en 2020, et dans la grande tradition du mélange des genres PixelJunk, celui-ci combine le plaisir d'un jeu de société avec le chaos d'un bagarreur. En peluche, il a cette simplicité classique de PixelJunk qui a incité les fans à revenir pendant plus de 15 ans dans la série.
Vous pourrez vous battre avec des amis, quelle que soit la plate-forme sur laquelle ils choisissent le jeu, car le multijoueur multiplateforme est disponible. Et il y a beaucoup à débloquer pour vous assurer que vous et vos amis continuez à le supprimer. Le fondateur de Q-Games, Dylan Cuthbert, a déclaré qu'il y avait "d'autres nouvelles de PixelJunk à venir et nous avons hâte de partager ce sur quoi nous avons travaillé" plus tard cette année, nous serons donc sur le bord de nos sièges jusque-là.
Voici un tout nouveau regard sur le jeu, ainsi que sur ce à quoi s'attendre de Scrappers Deluxe, du développeur :
Les joueurs jouent le rôle des Scrappers, une équipe de ramasseurs de déchets humanoïdes dans un avenir pas si lointain. Le but est de nettoyer une ville envahie par les ordures suite à la fin de l'humanité. Les ordures signifient de l'argent à Junktown, avec des équipes rivales qui tentent d'interférer et d'empocher les récompenses pour elles-mêmes.
Présentation des fonctionnalités :
● 5 zones dynamiques à explorer avec plus de 25 étapes
● Multijoueur local et en ligne jusqu'à 4 joueurs
● Prise en charge multijoueur multiplateforme
● Plusieurs styles de combat avec une variété d'armes de mêlée et à distance à débloquer
● Les largages d'armes ne font pas deux parties identiques
● Plus de 100 pièces de camion personnalisées uniques à découvrir
● Grande variété de Scrappers uniques à recruter pour votre liste
● Mini-jeux frénétiques avec modes tête à tête
● Monde cyberpunk pop-art qui s'inspire du Japon réel.
Avec une prise en charge multijoueur en ligne multiplateforme jusqu'à 4 joueurs et l'option de coopération locale, PixelJunk Scrappers Deluxe propose plusieurs modes de jeu passionnants ainsi qu'une série de mini-jeux effrénés. Les joueurs sont encouragés à s'affronter contre la montre pour ramasser le plus de déchets possible. Plus la pile est élevée, plus le bonus est important, avec une vaste sélection de personnages, d'armes et de pièces de camion à débloquer.
Voici quelques images du jeu :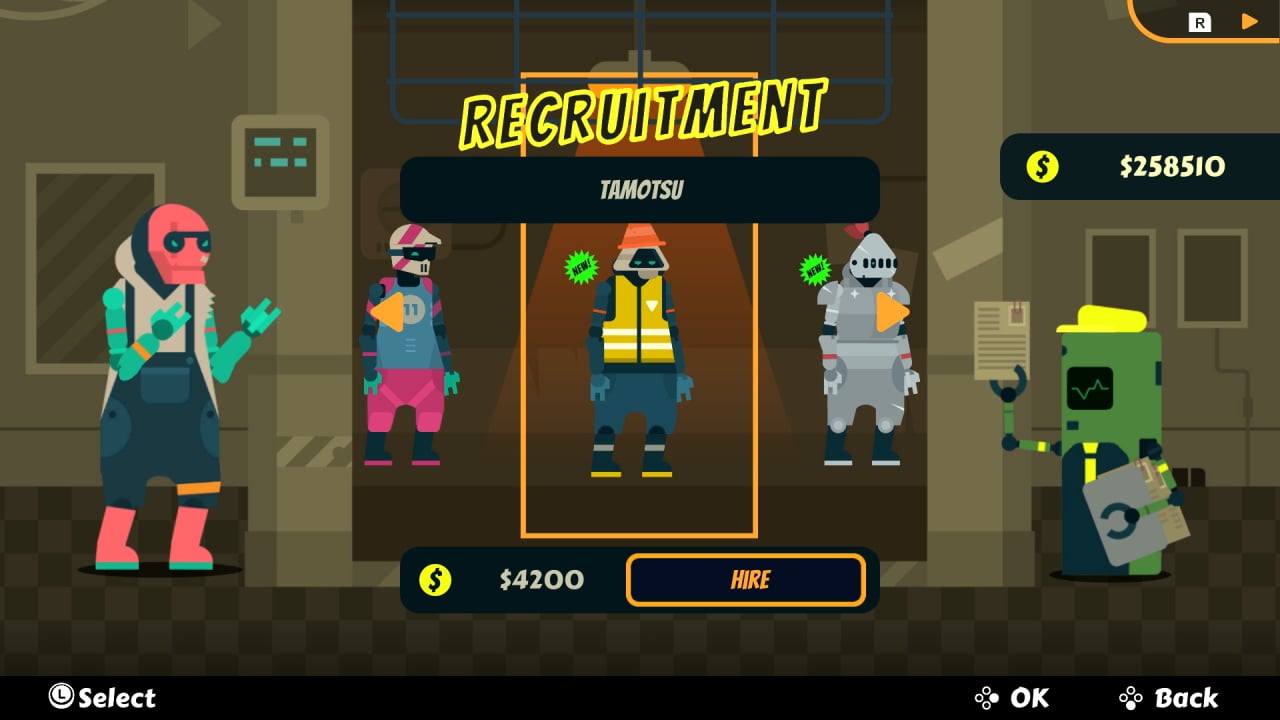 Les personnages ont l'air plutôt bien, surtout celui avec le chapeau de cône de signalisation.
Le gameplay semble bon.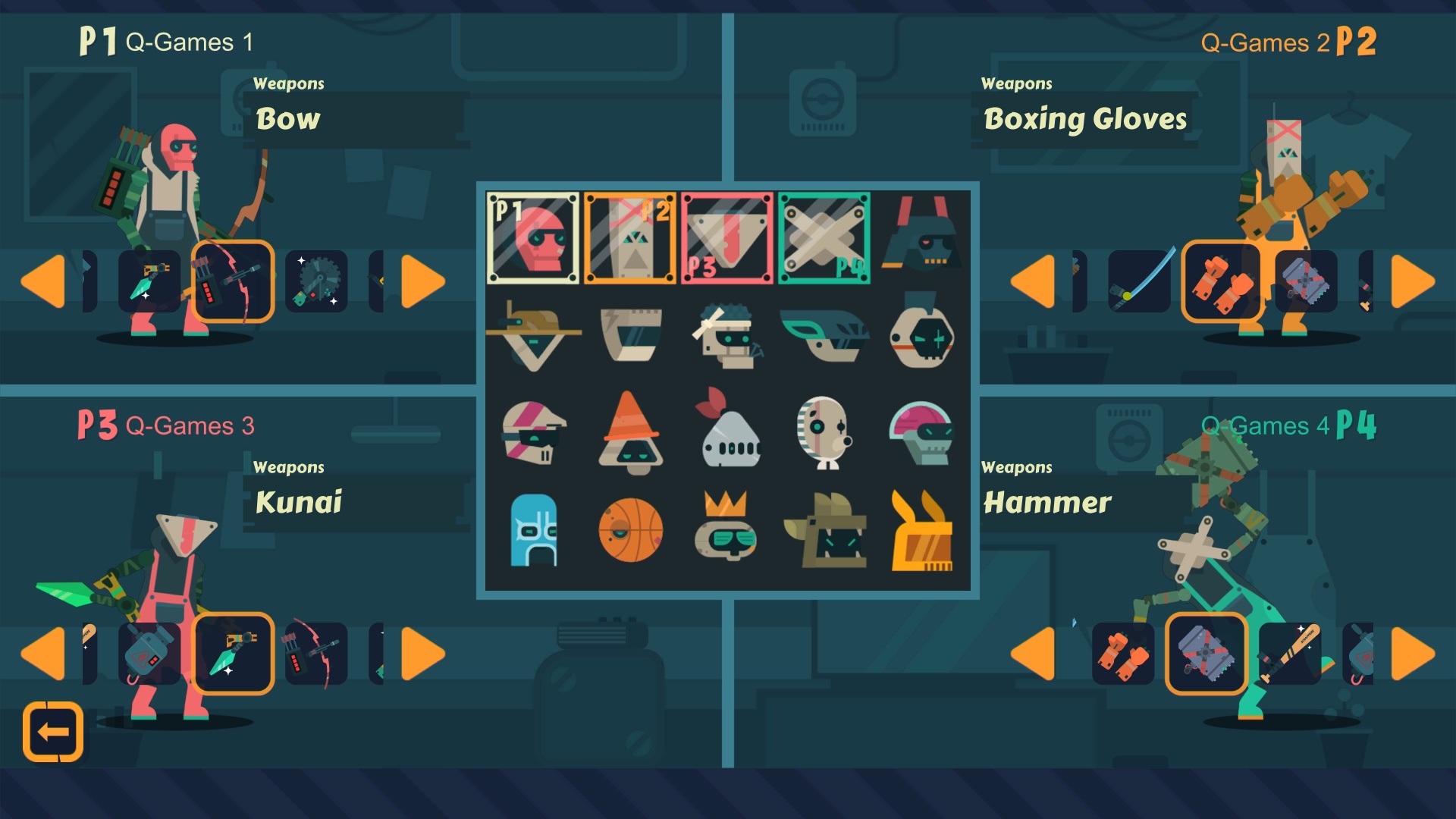 Les Armes sont plutôt sympas.
Le seul type de déchets que vous emporterez dans PixelJunk Scrappers Deluxe, ce sont vos amis lorsque vous revendiquerez la victoire. Avec des tonnes d'étapes, des centaines d'articles et de nombreuses personnalisations, cela ressemble à quelque chose qui nous occupera pendant des heures.
PixelJunk Scrappers Deluxe sera lancé sur Switch en 2023. Êtes-vous fan de la série PixelJunk ? Dites-nous ce que vous pensez de ce nouveau jeu dans les commentaires — mais pas de bavardage, s'il vous plaît !