Mario Kart PC Forum - Advanced search
Results 1-20 out of 160+

On 2019-05-19 at 20:45:01
This is a genuine ask for help or just a trivial question?
On 2019-02-23 at 22:56:16
Original: King Boo

Custom: Windows XP
On 2020-06-08 at 12:15:34
n'oubliez pas le 200ème taïwanais sur le site
On 2019-08-11 at 23:47:38
french xD
I know it


On 2018-10-25 at 21:35:12
So in a year, we have counted 16,000 Americans...
On 2019-05-08 at 23:15:51
We could add new items!
Inappropriate
On 2019-08-09 at 18:08:54
Boris Johnson






He is a joke himself
On 2019-08-10 at 14:21:57
Can i make a tournament?
Wrong place
On 2018-11-07 at 21:32:17
Welcome to Mario Kart PC, my name is
Ryubix
, and I'm happy to give you a little presentation of this site!

Notice I'm french, sorry for the mistakes.

This site was created by
Wargor
in 2010. You can play in a special PC version of
Mario Kart
, on 10 cups of 4 races (for a total of 40 circuits), all froms
Super Mario Kart
and
Mario Kart: Super Circuit
.

For the gamemodes, you have Grand Prix, Time Trial (including worldwide classment), VS Race, Battle (only balloon mode, on the 4 maps of
Super Mario Kart
), Circuit Editor (you can create your own circuits and cups! Based on official themes, or on your own themes!), and most importantly: Online Race (with worldwide classment, with possibility to compete on your own created circuits!).

You can play with over 21 characters! With 9 already unlocked at the start, unlock all of them by winning Grand Prix mode or Grand Prix from the Editor Mode!

The community is very active, nearly to 20-50 answers by day in the (french part of the) forum. The actual organization of administrators is composed of Wargor (creator of MKPC), misterskin-ryubix, Link-Triforce-8, SuperCoppin, SuperMarioWorld764. All of them are french but can speak english.

The site is also surronded by many events: MKPC Tournaments (the most popular event), MKPC Champions Cup (special tournament for the "elite&quot

, MKPC: Oscars, annual MKPC elections, and many others....

Even if the french part of the site is representing near to 95% of the activity of the site,
Mario Kart PC
is an international site! There is a proof here (list of visitors since the 25th november 2017):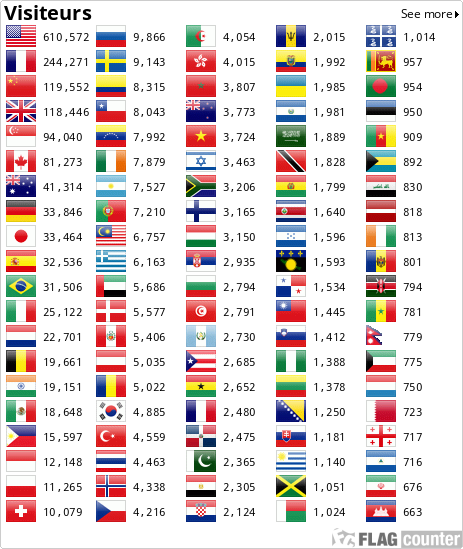 HAVE A GOOD DAY!!!

Oh how times have changed since then
On 2019-08-10 at 18:50:32


Rosaline is more beautifull
That's not even part of your question.
On 2019-08-09 at 17:54:15
I'd choose not to make this topic