Ssg-132's profile
General stats

19 followers

2 following

4978 pts
-
Budding pilot
[?]
- 63488
th

5000 pts
-
Novice
[?]
- 7675
th

419 messages
-

Metal Luigi
[?]
292 created circuits - 35 cups
0 shared characters
163 comments on circuits
19 topics followed
About
Description :
Just a chill guy how can be funny sometimes. btw i wasn't born in 1980i just don't want to tell my age was born on 9/9 though
United States
42 years old (Born on 09/09/1980)
Registered since 13/12/2022
Last connection: 21/05/2023
Last messages on the forum :

Fun fact: Having battle arena cups was at first rejected because Wargor found it too weird but later changed his mind
Huh so even things that were once rejected can still come back the only one currently on the list that might be added is the broken pier and peach circuit qm things but they are way to similar so it's like a 2% chance we get them
Random question: How do you guys think this site will change in 2024/2025?
1. Site gets taken down. 2. Insane Spammers every month. 3. A rule where you can only put one meme every month
I made my own topic for this but i'll pit it here now this is the first one
mario kart super circut
Yes circut not circuit because I'm talking about all the broken shortcuts the game has intended of not
riverside park, bridging the gap
This one is intended it is the bridge cut present on the track
It skips a good amount of the track so it is good to take but it is hard for me.
cheesing cheese land
Normally in the jump followed by a u turn and then another jump before the first jump turn right you should skip the u turn and if you use a mushroom you could even go on the jump pad.
the mess of sky garden
This track has two broken cuts which are hard to describe. in the section with the two jumps don't take any jumps and don't turn at all after you pass both then use your mushroom and jump. On the tree about across from the gap near the end go a bit to its right and use the mushroom.
cheep cheep island, wait this is intended
On a left turn across from the huge bridge there is offroad meant to keep you on the right path but if you use a mushroom through it you skip a huge portion of the track making it a square.
ribbon road, if it was in 8 no more mechokoopas
Basically right before where the green ribbon would be in 8 in the gba version if you hit the boost before the ramp and turn right you skip that section
yoshi desert, uhh i can't explain
Basically the is a ramp which when you get to the point appears sideways. Use your mushroom on it and if you do it right you skip some of the track
bc3 literally the mkwii one
I'm serious just do the mkwii cut on the last jump but it does require a mushroom.
lakeside park idk what to say
Before the jump go right a bit and hit the boost before it go off a ramp in the water and there you go.
broken pier, my favorite cut
Basically where the already broken intended cut it you can take a hard left and skip at least a third of the track
rainbow road, this is what you've been waiting for
Uhh idk here is an image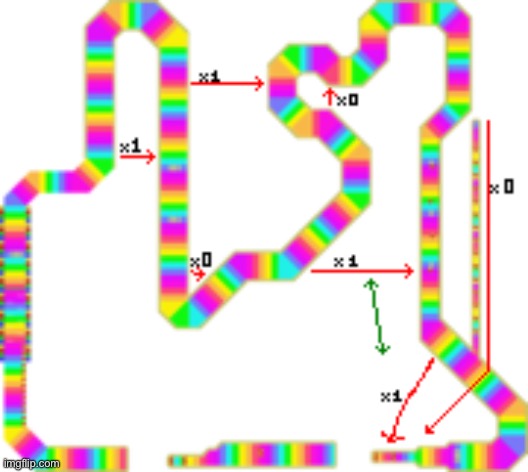 donut plains 3, the only snes one
Basically before the jump at the bridge if you drift and use your mushroom right you skip a big amount if the track but this is the only snes one that skips a lot as most of the other snes tracks with ramps are the bowser castle ones which put you at a set speed no matter what.
---
Best created circuits :
V1.1 (Starsplizz track cont...

2

(StarSplizz track contest) ...

3

Poisonous plains

2

Thwomp temple

0

Sgk theater turnpike

2
---
Last circuit comments :
---
No time trial score
---
Last followed topics :