SuperCoppin's profile
General stats

21 followers

4 followings

11618 pts
-
Champion
[?]
- 883
rd

9303 pts
-
Expert
[?]
- 49
th

432 pts
-
154 challenges
won - 28
th

2347 messages
-

Golden Mario
[?]
3 news published
220 created circuits - 26 cups
29 challenges created
0 shared character
577 comments on circuits
0 record in time trial
8 topics followed
About
Description :
Je suis intéressé par l'informatique.
Mes passions:
Rubik's cube (Moins maintenant), pétanque, BAD, Fan de nintendo
J'ai une histoire assez folle sur ce site.
Voici:
Je me connecte pour la première fois le 3 Avril 2015, auquel cas ce jour là je n'avais pas de compte encore. Puis quelques jours plus tards je me connecte avec comme pseudonyme mon véritable nom. Puis je supprime ce compte et je crée celui-ci. J'ai été actif jusqu'en 2018 où je l'ai moins été, et j'ai eu quelques problèmes personnels aussi. 2019 je ne suis quasis plus là et même fin 2019 plus la, a part de bref coucou à certains de mes cyberamis. Puis en 2020 je suis redevenu actif à la mi du mois de Juin avec la maladie très répandue. Et me voilà !

J'ai aussi eu le statut d'administrateur en 2016-2017 puis rédacteur de news en 2017 pendant très peu de temps avec la fin de mon mandat d'admin, puis validateur 2017-2019. Et la plus rien enfin pour l'instant.
Je n'ai jamais été animateur, pour cause il n'as jamais existé dans mon active époque.
Mais vous en fait pas je suis peut-être un enfant dans ma tête, joueur, blagueur mais je suis pleins de surprises (désolé les gens qui n'aiment pas les surprises

). Alors n'hésiter pas à me poser des questions si l'envie vous chante et voir les animations que je peux poster de temps à autres.
Merci d'avoir lu mon profil
Objectifs:

- 1000 défis ==> à l'arrêt, peu d'options dans les défis.

- Créer une multicoupe pour jouer avec vous en ligne.
Évènements prévus:

- mini matchs amicaux les Vendredi 21h

↪

voir topic si joins.
+
Le serveur discord associé
Question:
Question 1
⇒
Demande de circuit/Asking roads
⇒
Stat des coupes accepter ou pas en online
⇒
Le microsite que j'ai créé pour MKPC
Ma chaîne YouTube
J'avoue ma chaine n'est pas de très bonne qualité. Mais je fait des vidéos sur les circuits de tout le monde.

English: Sorry I don't want to traduce you my profile for this moment. Kiss !

France
16 years old (Born on 04/10/2003)
Last connection: 16/07/2020
Calendrier de l'Avent
[?]
: Flocon Enneigé
Last messages on the forum :
I can say you :
I know nothing
⚠️ Ce topic est fait sur la demande de chainez en personne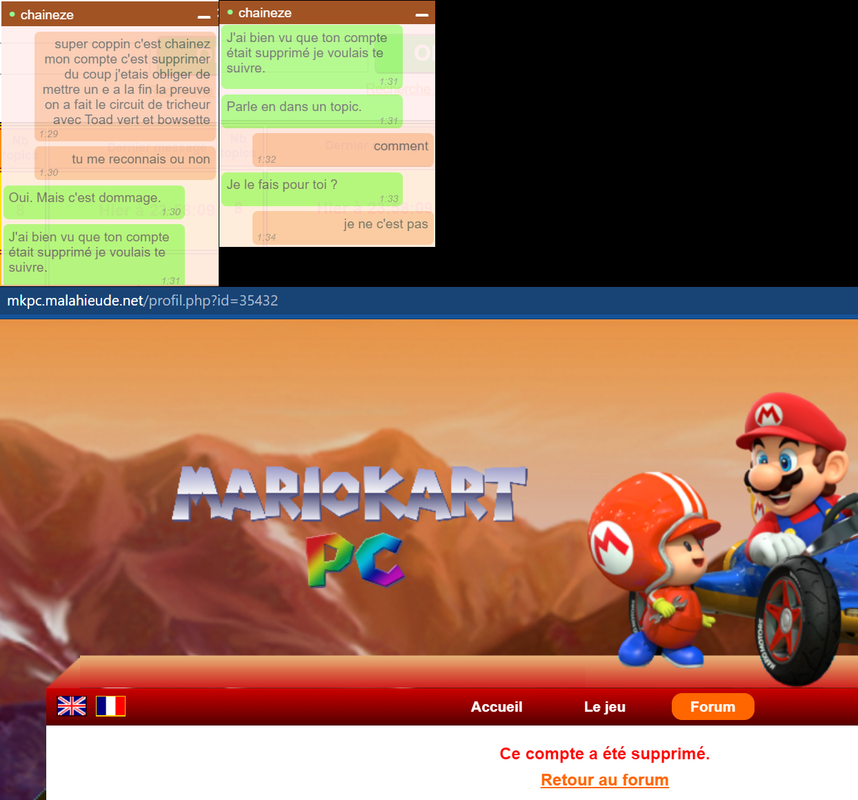 Chainez, est un joueur appréciable, fort en ligne, auquel j'ai eu la chance de jouer avec lui en ligne. Malheureusement, son compte a été supprimer (Par un modo ou j'en sait rien) et il aimerais le récupérer, dite lui comment faire, et quand pourra-t-il revenir sur son compte.

==> Pseudonyme d'urgence de chainez: [color=fuchsia]Chaineze
.
Contactez-le
le plus vite possible[/color]
Merci pour lui d'avance.
All the characters unlock on the cup.
---
Best created circuits :
Le circuit au milles défis.

8

L'arrène GLAGLA

1

bizaroïde

0

B'oops je me suis trompé #3

4

le cycle de l'école

8
---
Best created challenges :
---
Last circuit comments :
---
Last completed challenges :
---
No time trial score
---
Last followed topics :
---
Last published news :