Max-Bros's profile
General stats

44 followers

90 following

41353 pts
-
Titan
[?]
- 23
rd

11785 pts
-
Champion
[?]
- 36
th

667 pts
-
339 challenges
won - 42
nd

150cc:
69 pts
-
12 records
- 190
th

200cc:
24 pts
-
5 records
- 86
th

2222 messages
-

Golden Mario
[?]
1 news published
193 created circuits - 38 cups
15 challenges created
1 shared character
1481 comments on circuits
155 topics followed
About
Description :
#TousHumains
#DroitDeVivre
#DifférentsMaisÉgaux

Hey

Je suis Max-Bros, et j'ai rejoint ce site en février 2022
J'ai plusieurs séries de circuits, la principale étant Max Kart World
Je suis aussi modérateur de ce site, donc si tu as un problème, n'hésite pas à me demander de l'aide (faut juste que je comprenne comment marchent les outils de modération 🙃)

Mes profils Scratch :
https://scratch.mit.edu/users/Max-Bros/
https://scratch.mit.edu/users/Caxime/

Un topic où je dis des trucs en vrac :
https://mkpc.malahieude.net/topic.php?topic=9017

Si vous voyez un compte supprimé du nom de MisterCoolSkin, ben c'était un compte sur téléphone qui a existé du 01/06/22 au 27/07/22

Mes amis :
@Lely
@DFJey
@CalaChetinggs
@TheNudgyHampter
@Yascamer/@jujucamer26
@luq

Ils font des circuits cools :
@Lely
@Angel121
@Fways
@Link-Triforce-8
@hoppingicon
@BowserJr03
@Starl
@Yoshirioo
@Garythemoth
@M26G
@RainHart

Des gens sympas :
@KrazeyKay
@MH_osc-omb
@TerrellScottX
@Racing_Gamerlion

SUIVEZ LE :
@Wargor, le créateur du site !



(Notez que c'est là depuis le 9 septembre 2022)
France
14 years old (Born on 02/11/2007)
Registered since 10/02/2022
Last connection: 01/10/2022
Moderator of the site
News publisher
Last messages on the forum :

"mkpc topics aren't that useless"
What does that mean in short?
That this topic is useless, like the majority of current topics

1

1

1
hm, if its forest and allowed to be a remake I might do a remake of a certain hard to read forest level by me wink wink
Ah yes the track you did for my 2nd contest in March, I remember it XD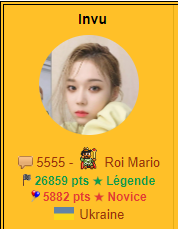 Useless, but hey I had to do it
(Lazy to wait for the 6666 lol, even if I will do it anyway)
---
Best created circuits :
Max Kart World - Snorlax St...

52

Max Kart World : Dash City

23

Max Kart World - Sunrise Beach

16

Max Kart World : Burning Vo...

39

ByoT's Twisted Mansion

9
---
Best created challenges :
---
Last circuit comments :
---
Last completed challenges :
---
Best scores in time trial :
| | | | | |
| --- | --- | --- | --- | --- |
| Rank | Class | Circuit | Character | Time |
| 10th | 200cc | Luigi's Mansion | | 1:10:597 |
| 21st | 200cc | Bowser Castle I | | 0:36:715 |
| 32nd | 200cc | Riverside Park | | 1:12:203 |
---
Last followed topics :
---
Last published news :